11 days tour – Classic Turkmenistan
With this tour you will see all the highlights of Turkmenistan. You go from west to east and from north to south through the whole country. You'll visit the famous places like the Gates of Hell, the marble capital Ashgabat and the Yangykala Canyon, plus you will also visit lesser known Mary, and the particularly cool dinosaur footprints. In short, after this tour you can sincerely call yourself a Turkmenistan expert!
InStock
Trip
1 person:
EUR
€
4529
4529
Trip
2 people:
EUR
€
3095
3095
Trip
3 people:
EUR
€
2595
2595
Trip
4 people:
EUR
€
2545
2545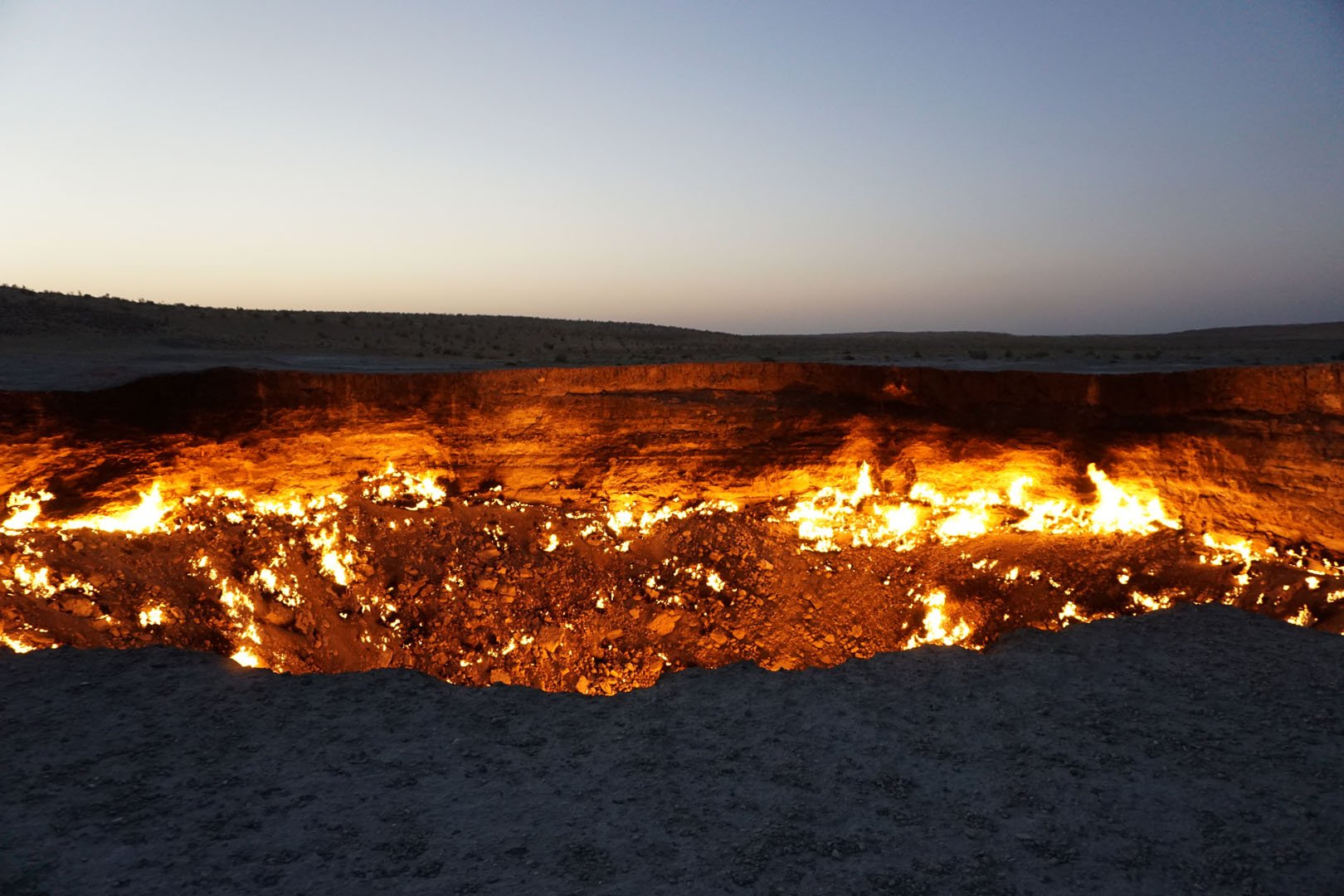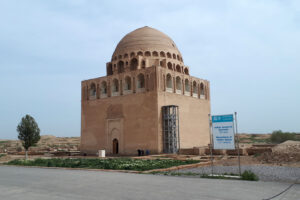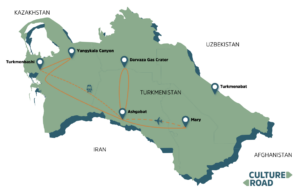 General info
Days
11 days / 10 nights
Best travel time
Spring, autumn, winter
Destinations
Ashgabat, Darwaza, Turmenbashi, Mary, Koytendag
Including
Accommodation
Transportation on the ground
Local guide
LOI for the visa
Registration in the country
Breakfast
Entry fees
Excluding
International flights
Hotel tax ($2 per night)
Immigration tax
Insurance
Visa
Lunch & Dinner
Photo/video ticket (if needed)
Personal expenses
Tips for the guide
This offer is covered by the STO Garant guarantee. You can find the conditions for this guarantee scheme on STO Garant's website.
Itinerary
Day 1 – Ashgabat
Airport pick-up and introduction to your guide in Ashgabat.
Highlight: Independence Park, the symbol of modern Turkmenistan.
Independence Monument, an impressive monument inspired by the old Turkmen tents.
Monument of the Constitution, a 185m high tower.
Gate of Neutrality, an absurd monument with a golden statue of former President Niyazov.
Lenin Park, here you will find another statue of Lenin.
Erogrul Ghazi Mosque, a famous mosque named after the leader of the Ottoman Empire.
Alem Business Centre with the largest indoor ferris wheel in the world.
Highlight: Palace of Hapiness for a panoramic view of the city.
Anau Fort, the history of this place goes back 7,000 years.
Overnight stay in Ashgabat.
Day 2 – Nisa – Kipchak – Kow Ata – Nokhur
Highlight: Drive to Nisa, a UNESCO world heritage site and the ancient capital of the Parthian Empire.
Sheikh Mosque.
Drive to Kipchak.
Turkmenbashy Mosque / Mausoleum, here lies the former president of Turkmenistan.
Drive to Kow Ata.
Swimming in a natural hot spring, deep in a cave.
Highlight: Drive to the traditional mountain village of Nokhur. Here we get acquainted with life outside the big city.
Nokhur Cemetery, learn more about the impressive graves here.
Relax in the mountains and learn more about the culture of Nokhur.
Overnight stay in a homestay.
Day 3 – Avaza – Turkmenbashi
Long drive to Avaza. We will go straight through Turkmenistan.
Highlight: City tour by car through Avaza, a (reasonably) deserted seaside resort, where a lot has been built in recent years. However, the tourists never came, so there are a lot of new empty buildings.
Beach walk along the Caspian Sea.
Overnight stay in Turkmenbashi.
Day 4 – Yangykala Canyon – Turkmenbashi
Highlight: Drive to Yangykala Canyon by 4×4. This place is also known as the Grand Canyon of Central Asia. We will visit several viewpoints here.
Drive to Turkmenbashi.
Overnight stay in Turkmenbashi.
Day 5 – Turkmenbashi – Ashgabat – Darvaza
Flight to Ashgabat.
Russian Bazaar for shopping to stock up for our night in the desert.
Drive to Darvaza.
Visit to the mud crater.
Highlight: Arrival at the fire crater (Gates of Hell). A place that originated in the seventies and has never stopped burning since.
Walk through the sand dunes around the crater.
Sunset at the crater.
Barbecue and overnight stay in tents near the Gates of Hell.
Day 6 – Ashgabat – Mary
Drive to Ashgabat.
Tolkuchka Bazaar, a large outdoor market, the perfect place for photos.
Train ride to Mary.
Overnight stay in Mary.
Day 7 – Mary – Merv – Turkmenabat
Drive to Merv.
Highlight: Discover the shrines, temples, towers, city walls, castles and mausoleums of this UNESCO city.
Sultan Sandzhar Dar-al-Akhir Mausoleum, a special architectural structure.
Drive to Turkmenabat.
Karakum Desert, the great desert of the region.
Overnight stay in Turkmenabat.
Day 8 – Turkmenabat – Atamyrat – Kugitang
Drive to the Koytendag Mountains.
Highlight: Astana Baba & Alamberdar Mausoleum, two important buildings in the eastern region.
Drive to Atamyrat.
Overnight stay in a lodge in Kugitang.
Day 9 – Kuritang – Koytendag Bergen
Drive to Koytendag Mountains.
Swimming at beautiful waterfalls.
Highlight: Goat massage! (on your back), this is a popular activity among locals.
Amudarya River.
Overnight stay in a lodge in Kuritang.
Day 10 – Dinosaur Plateau – Kuritang
Highlight: Walk to the Dinosaur Plateau, where you will find the largest footprint in the world.
Drive to Kyrk Gyz Cave, a cave full of special stalactites.
Overnight stay in a lodge in Kuritang.
Day 11 – Kuritang – Turkmenabat – Ashgabat
Drive to Turkmenabat.
Flight to Ashgabat.
End of tour.