Egypt: A Land of Ancient Wonders and Off the Beaten Track Adventures
Egypt is a land of ancient civilizations, stunning natural beauty, and vibrant culture. From the iconic pyramids of Giza to the pristine beaches of the Red Sea, there is something for everyone in this fascinating country.
On this page, we offer you a glimpse of what Egypt has to offer. Of course, you can opt for the classic itinerary, available as either a day tour or a multiple-day tour, but CultureRoad is also here to give you that little extra, introducing you to areas of Egypt that not many have ventured to. If you are looking for a more unique experience, our off-the-beaten-track tours will take you to lesser-known but equally fascinating destinations. You will visit ancient ruins, remote villages, and stunning natural landscapes and have the opportunity to meet local people and learn about their culture.
Whether you are interested in ancient history, pristine beaches, or a vibrant culture, Egypt is the perfect destination for you. Contact us today to learn more about our classic and off-the-beaten-track tours and start planning your dream vacation!
| | |
| --- | --- |
| Days | 1-2 day |
| Price | Get in touch |
| Best travel time | Whole year |
| Destinations | Cairo, Giza, White & Black Desert, Abu Simbel, Luxor, Aswan, Alexandria, Mt. Sinai etc. |

This offer is covered by the STO Garant guarantee. You can find the conditions for this guarantee scheme on STO Garant's website.
Including
Transportation in A/C coach
Free hotel pick-ups
Local guide
Lunch
Tickets
Excluding
Tips for the guide
Personal expenses
Tour 1 – Gizeh & Egyptian National Museum
Available every day – 1 person: € 250, 2/3 persons: € 175
This tour will first take you to Giza, situated on the outskirts of Cairo, an archaeological and historical marvel that has captivated the world for centuries. At its heart lies the iconic Giza Plateau, home to the towering Great Pyramid of Khufu, the Pyramid of Khafre, and the Pyramid of Menkaure.
After visiting the pyramids, the National Museum of Egypt is also a must-see. It houses an extensive collection of artifacts that chronicle Egypt's rich heritage, safeguarding treasures such as those of Tutankhamun, ancient mummies, intricate jewelry, and countless relics from Pharaonic Egypt, offering visitors a profound glimpse into the nation's captivating history.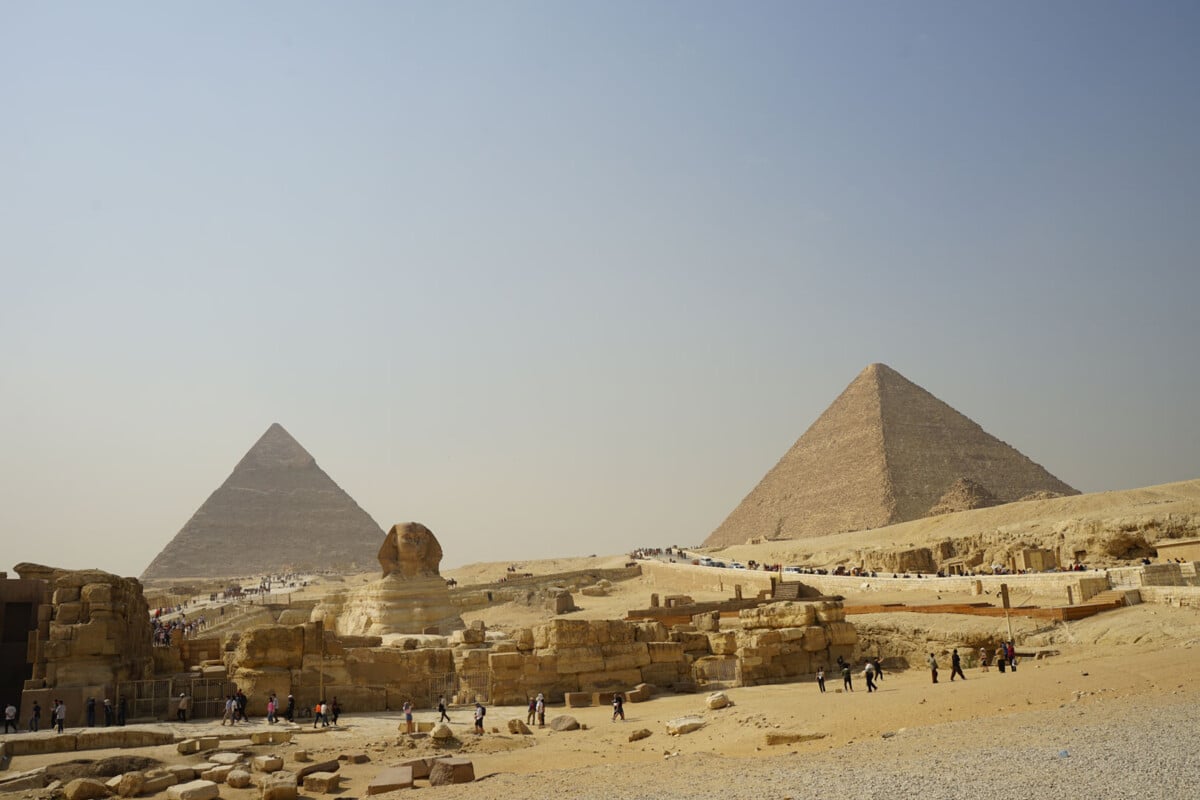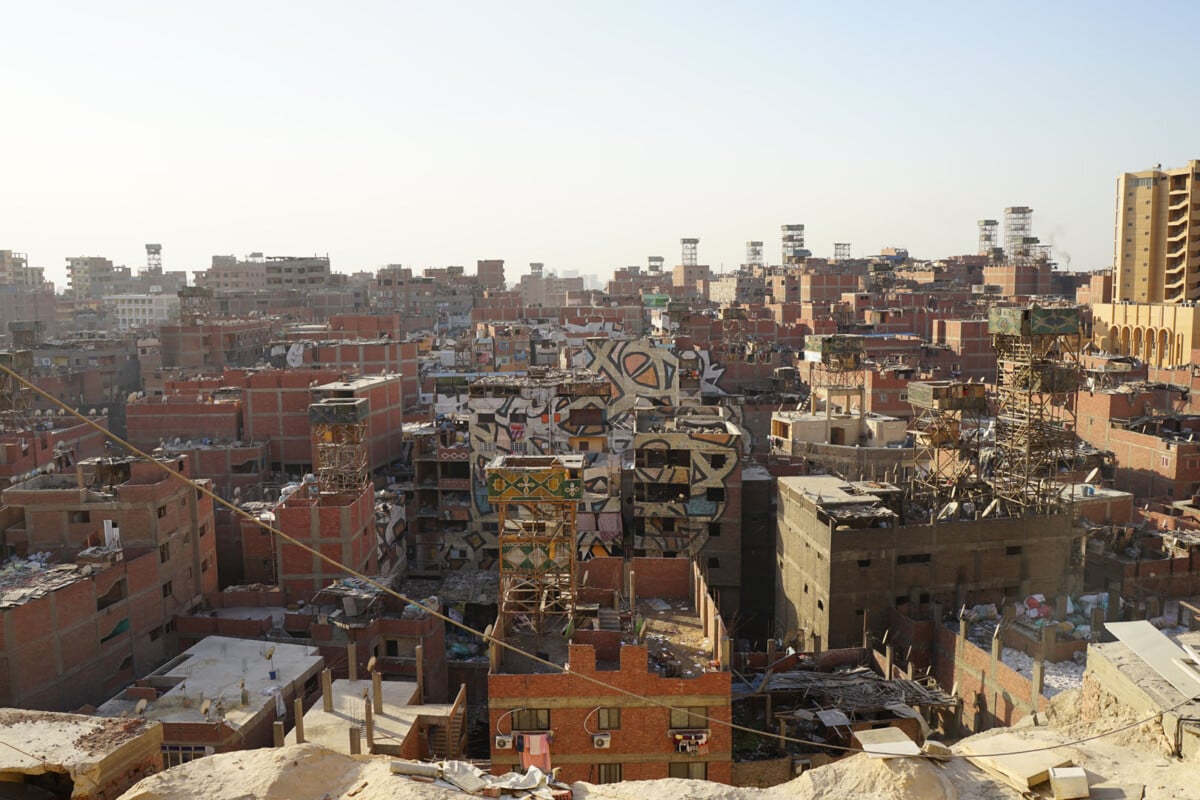 Tour 2 – Cairo: Garbage City, City of Dead & Bend, Red & Djoser Pyramids
Available every day – 1 person: € 250, 2/3 persons: € 175
You will begin your day in the City of the Dead, an ancient necropolis comprising an Arabic cemetery where tens of thousands of people live within mausoleums and tombs. Next, you'll head to another neighborhood in Cairo, Manshiyat Nasser, also known as Garbage City. Inefficient rubbish collection has forced the inhabitants to live amongst waste, offering a truly eye-opening glimpse into a different side of our planet.
In the afternoon, you'll explore some of the lesser-known pyramids. The first one is the Bent Pyramid, which almost collapsed due to a design mistake. The second pyramid you'll visit is the Red Pyramid, where you can expect zero tourists, in stark contrast to the more famous pyramids. Finally, you'll explore the Pyramid of Djoser, considered the world's oldest intact pyramid.
Tour 3 – White Desert (2 day trip)
Available every day – 1 person: € 325 , 2/3 persons: € 250
Day 1: You begin the desert expedition, making your way to the White Desert in our 4x4s. The scenery here is unparalleled, with white chalk rock formations rising from the sand, shaped by erosion from wind and sand.
After enjoying a local lunch in a small village near Bahariya, you will first traverse the Black Desert before exploring Crystal Mountain. You'll arrive at the White Desert in time for a stunning sunset.
As the evening darkens, you will choose your own Bedouin encampment. Together, we will feast under the starry sky of Egypt. An unforgettable night awaits you in the Bedouin camp.
Day 2: You wake up in the middle of the desert and enjoy breakfast while taking in the surrounding scenery. Then, you'll begin exploring the impressive chalk formations of the White Desert, with plenty of opportunities for walking and taking photos.
In the afternoon, you will return to Cairo, stopping for lunch at the Oasis of Bahariya. You will be dropped off at your hotel once again.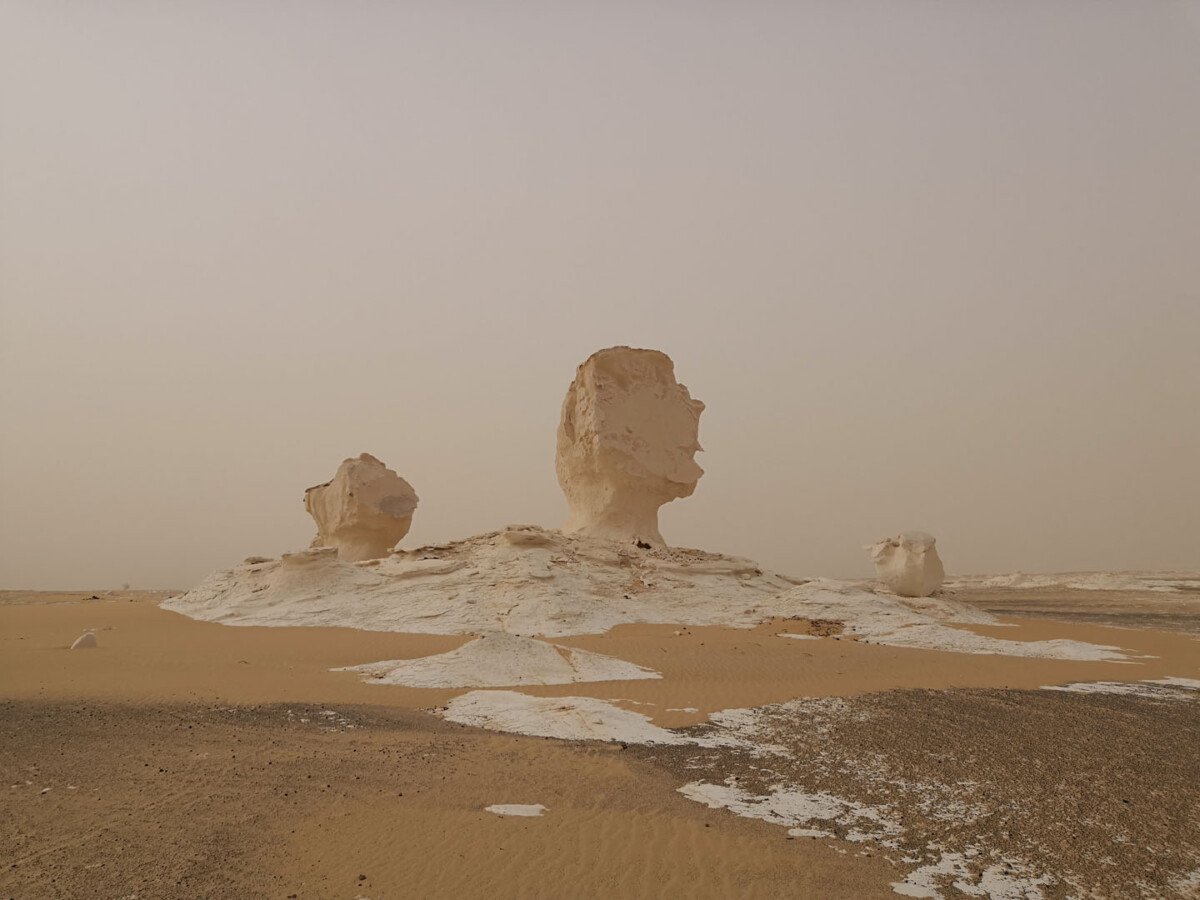 More Options
Available Everyday
Next to these tours we can organize (almost) everything in Egypt:
— Accommodation
— Transportation
— Alexandria Tour
— Abu Simbel Tour
— Mt. Sinai – St. Catherine Tour
— Luxor Tour
— Nile river Tour
— etc.