Run a marathon through Pyongyang
NOTE: This tour is to be confirmed. At the moment North Korea is not open for tourism.
Always wanted to run a marathon? Or are you just looking for a unique, new location for a marathon? Then this is your chance. Encouraged by 50,000 Koreans, we offer you the marathon of your life. Don't want to run? Then you can sit in the stadium to encourage your group mates & watch a local football match.
All participants will receive a Pyongyang Marathon certificate afterwards. If you finish in the top three, then you will even receive a prize in a packed stadium (except for the 5km race). In total there are 1,200 foreign runners participating. The sooner you register, the sooner you can be sure of a place. Registration for the marathon closes at the end of February 2022. You will also receive a running time chip with your registration.
Marathon costs:
Whole marathon (time limit: 4 hours) € 150
Half marathon (time limit: 2.5 hours) € 90
10km marathon (time limit: 2 hours) € 75
5km marathon (time limit: 2 hours) € 75
Let me know when North Korea opens up again for tourism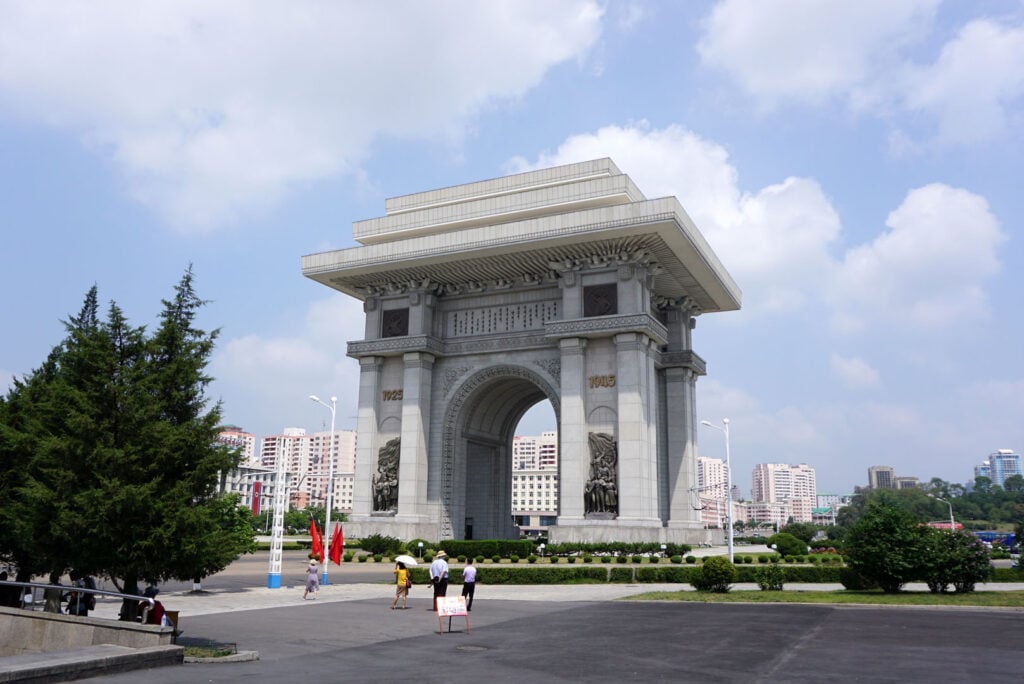 General info
Start date
TBC
End date
TBC
Days
5 days (A) / 9 days (B)
Price
€ 1,095 (A) / € 1.495 (B)
Including
Accommodation
Transportation on the ground
Local guide
Train in + out
Breakfast, lunch & dinner
Entry fees
Visa North Korea
Excluding
International flights
Single room (€ 45 per night)
Insurance
Food on the train
Visa
Tips for the guide
Personal expenses
Additional events
Stadium entry (€ 20)
Flight Beijing <-> Pyongyang
Marathon costs
This offer is covered by the STO Garant guarantee. You can find the conditions for this guarantee scheme on STO Garant's website.
Itinerary
7 April – Beijing
Meet & greet your guide and group in Beijing.
5:25 p.m. Departure by overnight train to Pyongyang.
8 April – Pyongyang
7:00 a.m. arrival border China / North Korea (Dandong / Sinuiju).
Departure for those choosing to fly from Beijing, arrival in Pyongyang at 4 p.m.
6:30 p.m. Train passengers arrive in Pyongyang.
Meet your Korean guides.
Overnight stay at the Sosan Hotel.
9 April – Pyongyang
Mansudae Fountain Park.
Mansudae Grand Monument, the statues of the great leaders.
Highlight: Kim Il Sung Square, the famous square of Pyongyang.
Foreign Language Bookshop, the best place to buy books about North Korea.
Korean War Museum, during the tour you will learn more about the Victorious Fatherland Liberation War.
USS Pueblo, the American ship captured during the war.
Juche Tower (€ 5 to the top), tower in honour of the Juche ideology.
Party Foundation Monument, the famous building with the hammer, sickle and calligraphy brush.
Kwangbok Supermarket, a local market where you can pay with the local currency.
Visit the Olympic Village in Pyongyang to warm up for the marathon.
Get a map of the marathon route and explore it by bus.
Overnight stay at the Sosan Hotel.
10 April – Pyongyang – THE MARATHON
Highlight: Join the marathon or come and watch the runners in the stadium (€ 20 entrance fee if not running).
If you don't run you can also watch a football game in the stadium.
Highlight: Munsu Water Park, swimming pool where you can mingle with residents of Pyongyang (optional).
Taedonggang Microbrewery.
Walk down Future Scientist Street.
Overnight stay at the Sosan Hotel.
11 April – Pyongyang – Kaesong / DMZ – Sariwon
Drive to Kaesong, near the border with South Korea.
Koryo Museum, a UNESCO site.
Highlight: Panmunjon DMZ, the border with South Korea.
Thongil Restaurant, where you can optionally eat dog soup (€ 5).
Ride to Sariwon.
Folkcustom Park, here you have a beautiful view over Sariwon.
Try the local drink makkoli.
Drive to Pyongyang.
Monument of the Three Charters of National Reunification, an imposing structure across the highway.
Overnight stay in the Sosan Hotel.
12 April – Pyongyang – Mt. Myohyang
Group A departs at 9:00 a.m. by plane to Beijing (arrival at 9:55 a.m.).
Group A departs at 10:25 a.m. by night train to Beijing (arrival on the 14th, 9:00 a.m.).
Mansudae Art Studio, this is where the local propaganda is created.
Three Revolutionary Exhibition, exhibition about the ideological, technological and intellectual revolution.
Drive to Mt. Myohyang.
Pohyon Temple, a Buddhist temple.
We put on our sports clothes in the hotel.
Walk around Mt. Myohyang.
Sangwon Hermitage Site, buildings from the Koryo period.
Viewpoint over the Manpok Valley.
Overnight stay at the Chongchon Hotel.
13 April – Pyongyang
Highlight: International Friendship Exhibition, see all the gifts received by the Korean leaders from around the world.
Cave of Ryongmun.
Drive to Pyongyang.
Meari Shooting Range, the famous shooting range. (shooting optional)
Mansugyo Beer Cafe.
Overnight stay at the Sosan Hotel.
14 April – Pyongyang – BIRTHDAY OF KIM IL SUNG
Kimilsungia Flower Festival Exhibition, the annual flower exhibition.
Mangyongdae Native Home – birthplace Kim Il Sung.
Walk with picnic lunch on Mt. Ryangak, just outside Pyongyang.
Highlight: Special festivities, these are often announced at the last minute, but most of the time: a parade, circus performances, a classical concert and/or probably some other surprises. (optional: approx. € 20).
Join in/or watch from the sidelines with a mass dance performance with local students.
Watching fireworks at Kim Il Sung Square. (t.b.c.)
Overnight stay at the Sosan Hotel.
15 April – Pyongyang – Beijing
10:00 a.m. Flight takers depart from Pyongyang (arrival 11:30 a.m. in Beijing).
10:25 a.m. Train takers depart from Pyongyang via Dandong to Beijing.
16 April – Beijing
9:00 a.m. arrival in Beijing, end of tour.