Take a dive into the mystery of Haiti
Join us on a trip to Haiti. The most unknown and undiscovered country in the Caribbean. During this group trip you will see all the highlights of the small country. You will visit the cities of Port-au-Prince, Jacmel and Cap-Haïtien, including the famous citadel. The highlight of the trip is a visit to the Saut D'eau Festival. This is the largest voodoo (in Haiti often referred to as Vodou) festival in the country and attracts thousands of believers every year.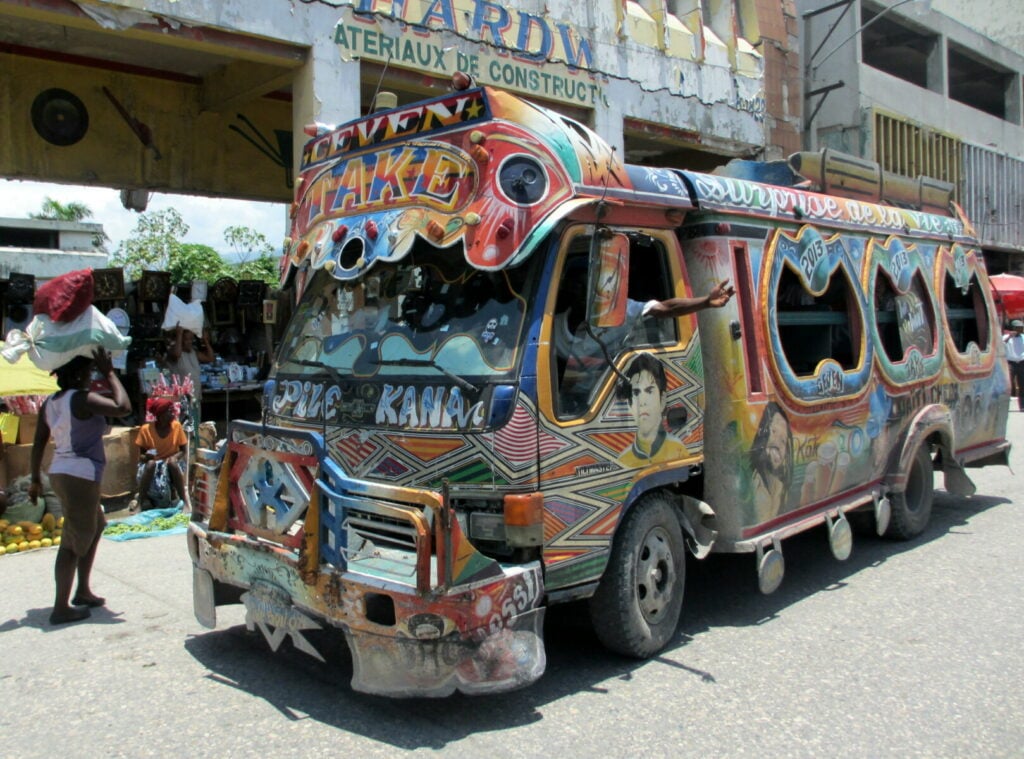 General info
Start date
Thursday 13 July 2023
End date
Wednesday 19 July 2023 (A)
Saturday 22 July 2023 (B)
Days
7 days (A) / 10 days (B)
Price
€ 1,995 (A) / € 2,495 (B)
Including
Accommodation (shared)
Transportation on the ground
Western & local guide
Breakfast
Entry fees
Excluding
International flights
Single room (€45 per night)
Insurance
Visa
Lunch & Dinner
Tips for the guide
Personal expenses

This offer is covered by the STO Garant guarantee. You can find the conditions for this guarantee scheme on STO Garant's website.
Itinerary
Thursday 13 July – Port-au-Prince
Airport pick-up.
Short tour walking alongside the famous street art in the city.
Visit to a collection point for trucks and buses (tap tap). These are often wonderfully painted and very colourful.
Short ride in a tap tap.
Overnight stay in Port au Prince.
Friday 14 July – Port-au-Prince – Fermathe – Kenscoff
Drive through the Bois Verna district, there are still many Gingerbread Houses, amongst the most famous houses in the city.
Highlight: Champs de Mars, the central square of the city. Here you see a lot of people walking around or selling stuff.
National Palace and Notre Dame Cathedral. Both buildings were severely damaged during the earthquake in 2010 and are now no longer in use.
Unknown Slave statue, the most important statue for Haitians, as it stands for the country's war of independence.
Statues of the first Emperor, first King and Columbus.
Historical Pantheon Museum, the national museum of Haiti.
St Trinity Episcopal Church.
Boutillier viewpoint, here you have a great view over the city.
Drive to Fermathe, a village just outside the city.
Self Help Shop Kenscoff, a market village in the mountains around the city where many people sell homemade goods.
Fort Jacques, a 200 year old fort built at the time of independence.
Overnight stay in Port-au-Prince.
Saturday 15 July – Saut D'eau Festival
Drive to the Saut D'eau waterfall. This is an important place of pilgrimage for followers of Christianity and vodou religion in Haiti.
Highlight: Visit the Saut D'eau Festival, the largest annual voodoo festival in the country. Thousands of people gather at the Saut D'eau waterfall to undergo the procession. A special, intense and impressive ritual.
Concert of the popular voodoo band RAM at the Oloffson Hotel.
Overnight stay in Port au Prince.
Sunday 16 July – Port-au-Prince – Croix des Bouquets
Plaza de Hugo Chavez, here stands a large statue of the Venezuelan leader Hugo Chavez.
Marché de Fer, the famous market hall of the city. Everything is sold here, including voodoo art.
Fort Dimanche, a notorious former prison at the time of Papa Doc (François Duvalier).
Highlight: Grand cimetiere, here the voodoo god Baron Samedie is buried and you see many voodoo rituals on the graves.
Artists Rezistans, a place for voodoo artists using recycled stuff.
Artist village Noailles in Croix des Bouquets, also here you see special voodoo art.
Highlight: We are trying to attend a voodoo ceremony. A special and intense experience.
Overnight stay in Port au Prince.
Monday 17 July – Port au Prince – Jacmel
Drive to Jacmel.
On the way we visit the tomb of Baby Doc (Jean-Claude Duvalier).
Visit the Bassin Blue, here we take a dip in one of the many beautiful blue lakes.
We continue the journey to Jacmel.
Overnight stay in Jacmel.
Tuesday 18 July – Jacmel
Highlight: City walk through Jacmel. We pay a visit to:
New-Orleans-style coffee houses.
Manoir Alexandre, Jacmel's most impressive building.
Old cathedral.
Former house of Simon Bolivar.
Local market, a perfect place for beautiful photos.
We visit several art galleries and a local artist in his studio. In this way we learn more about the specific art of Jacmel.
We go to Cyvadier Plage, where you can swim in the sea or in the nearby swimming pool.
Overnight stay in Jacmel.
Wednesday 19 July – Jacmel – Leogane – Port-au-Prince – Cap Haïtien
Drive to Port-au-Prince.
On the way we stop at Leogane. 80% of this city was destroyed during the earthquake in 2010.
End of tour group A.
3:00 p.m. flight to Cap Haïtien.
Overnight stay in Cap Haïtien.
Thursday 20 July – Cap Haïtien – Milot
Ride to Milot.
We visit the Sans Souci Palace. This palace was the royal residence at the time of Haiti's independence.
Highlight: Walk to the Citadelle LaFerriere, Haiti's most famous fortress. From here you have a beautiful view over the surroundings. This UNESCO fortress was built to protect against the French.
Lakou Lakay – here we will watch a voodoo dance show.
Overnight stay in Cap Haïtien.
Friday 21 July – Cap Haïtien – Labadie
City tour of Cap Haïtien:
Heroes Monument of Vertières, this statue represents the last battles during the war of independence.
Bois Caiman, here the first voodoo rituals were performed at the time of the slave uprising.
Visit to the Kleren (rum) brewery, the most famous rum brewery of Haiti.
Boat to the beaches of Labadie.
Relax on the beach with a barbecue.
Overnight stay in Cap Haïtien.
Saturday 22 July – Cap Haïtien – Port-au-Prince
Flight to Port-au-Prince.
End of tour.