8 days tour – Pamir Highway Tour
Take the road trip of a lifetime! On this individual Pamir Highway trip you will travel from Dushanbe through the Wakhan Valley in just a few days. Along the way you will come into contact with incredibly beautiful nature and local cultures. The route will be driven by 4×4, complete with a safe and reliable driver. This trip can also be adapted to your own preferences and you can choose to stop and stay wherever you prefer.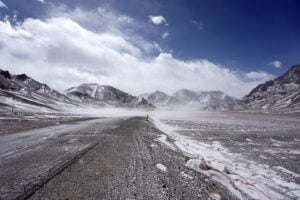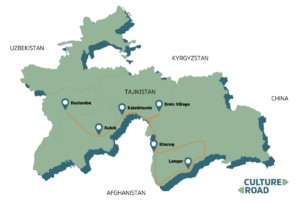 General info
Days
8 days / 7 nights
Price
Get in touch
Best travel time
July to October
Destinations
Dushanbe, Khorog, Wakhan
Including
Accommodation
Transportation on the ground
Driver with basic English
Breakfast, lunch, dinner
Entry fees
Excluding
International flights
Insurance
Visa
Photo ticket (if needed)
Tips for the guide
Personal expenses
This offer is covered by the STO Garant guarantee. You can find the conditions for this guarantee scheme on STO Garant's website.
Itinerary
Day 1 – Dushanbe
Arrival in Dushanbe.
Airport pick-up.
Overnight stay in Dushanbe.
Day 2 – Dushanbe – Kalaikhumb
We start our road trip towards Kalaikhumb.
Short stop at the monument in memory of the attack on cyclists in 2018.
Shurabad Pass (2200m).
Highlight: Short visit to the partly restored Hulbuk fortress.
Overnight stay in Kalaikhumb.
Day 3 – Kalaikhumb – Khorog
Highlight: Drive to Khorog, with fantastic views of the snow peaks of the Pamir Mountains along the way.
We drive past many traditional, conservative villages.
See local life in Afghanistan, across the Panj River.
Arrival in Khorog, one of the poorest areas of Tajikistan, it used to be strategically very important in the Soviet Union.
The highest botanical garden in the world.
Overnight stay in Khorog.
Day 4 – Khorog – Langar
Drive to Langar.
Kotezek Pass (4272m).
Kargushi Pass (4344m).
Highlight: We leave the M41 motorway (Pamir Highway) and enter the Wakhan Valley.
Overnight stay in Langar.
Day 5 – Langar – Vrang – Ishkashim
Drive through the Wakhan Valley.
Highlight: Khahkha Fort, this old fort gives a view over the border with Afghanistan.
Drive to Vrang.
Old caves where Buddhists used to live.
Sufi Muborak-Kadam Museum, a local Sufi teacher.
The old Kakhala Kala Fort.
Yamchun Fort, an old fort that served to protect the Pamir route.
Highlight: Bibi Fatima natural hot springs.
Ruins of Abrashim Fort.
Highlight: On the left you see one of the most remote areas of Afghanistan, the Wakhan Valley (Corridor).
Overnight stay in Ishkashim.
Day 6 – Ishkashim – Khorog
Highlight: Drive to Khorog.
Garmasma hot springs, a lot of people come here to relax for a while. (optional)
Arrival in Khorog.
Overnight stay in Khorog.
Day 7 – Khorog – Dushanbe
We drive back to Dushanbe, with several photo stops on the way.
Shurabad Pass (2200m).
Arrival in Dushanbe.
Overnight stay in Dushanbe.
Day 8 – Dushanbe
Airport drop-off.
End of tour.