Socotra, a world apart…
Socotra Group Tour
Come and join our group tour to Socotra. An island that is known for its incredible nature. Baobab Trees, Dragon Blood Trees, vultures, the island has it all. During our tours you will discover all corners of the island. Every turn you make will give you a completely different landscape. We overnight in a tent, which makes it even more special. Waking up on the beach or between the dragon blood trees. Who ever wants to go home?
TIP: We also offer unique private trips in Egypt, before or after our Socotra tour. See here for more info.
InStock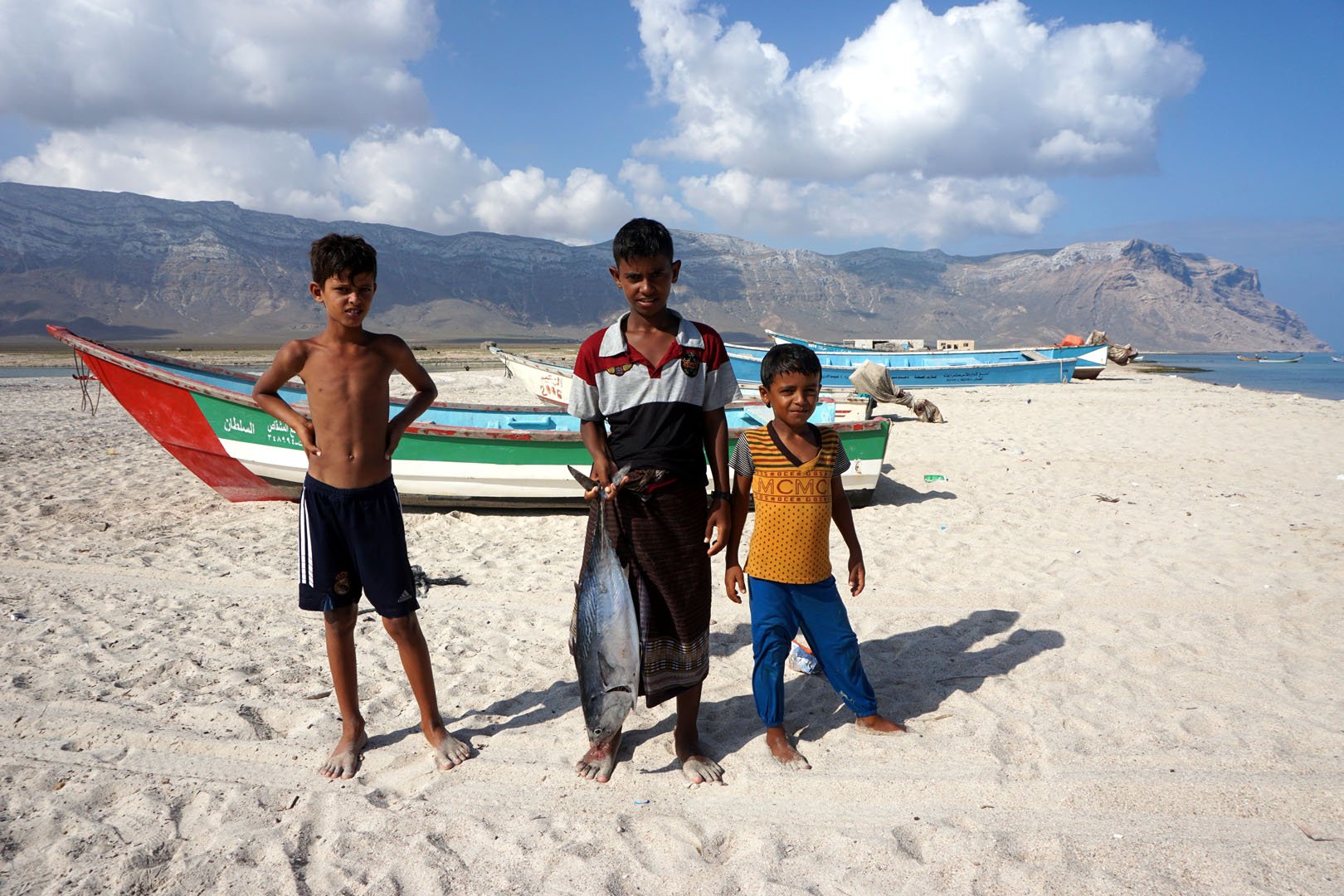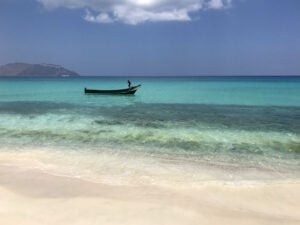 Socotra Group Tours Schedule
| Date | Tour | Status |
| --- | --- | --- |
| 17 – 24 November 2023 | November Tour | SOLD OUT |
| 5 – 12 December 2023 | December Tour | SOLD OUT |
| 21 – 29 January 2024 | January Tour | Book now |
| 10 – 18 March 2024 | March Tour | Book now |
| 14 – 22 April 2024 | April Tour | Book now |
| 13 – 21 October 2024 | October Tour | Book now |
| 17 – 25 November 2024 | November Tour | Book now |
| 8 – 16 December 2024 | December Tour | Book now |
| 19 – 27 January 2025 | January Tour | Book now |
| 9 – 17 March 2025 | March Tour | Book now |
| 13 – 21 April 2025 | April Tour | Book now |
| 12 – 20 October 2025 | October Tour | Book now |
| 16 – 24 November 2025 | November Tour | Book now |
| 7 – 15 December 2025 | December Tour | Book now |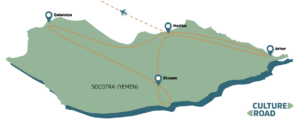 General info
Days
9 days / 8 nights
Including
Accommodation (shared)
Transport on the island
Entry fees
Camping supplies
Local representative
Breakfast, lunch & dinner
Excluding
International flights ($ 1195)
Single room (€ 50 per night)
Insurance
Visa (€ 200)
Tips for the guide
Personal expenses
This offer is covered by the STO Garant guarantee. You can find the conditions for this guarantee scheme on STO Garant's website.
Itinerary
Day 1 – Cairo (Egypt)
7:30 p.m. meet the group at the check-in counter of Yemen Airways at Cairo International Airport (Terminal 1).
10:30 p.m. flight to Aden (Yemen), with connection to Socotra.
Day 2 – Aden – Hadibu – Ayhaft Canyon National Park – Delisha Beach
3:00 a.m. arrival in Aden Airport (Yemen)
7:00 a.m. departure flight to Socotra.
At 10:00 a.m. arrival at Socotra. We meet our local guide, who will stay with us for the rest of the tour.
After a short drive we arrive at Ayhaft Canyon National Park. Here we make a short walk through the beautiful nature.
After we have left our belongings at the hotel we go in the direction of Delisha Beach. Here you can swim (in the sea or in the lagoon) or take a walk on the beach. Next to that you can enjoy a beautiful sunset while several ships pass by.
Overnight stay in our centrally located hotel in the capital Hadibu.
Day 3 – Homhil National Park – Arher
Highlight: After breakfast we go to Homhil National Park. Here you will find the famous dragon blood trees and bottle trees. After a walk of one hour we arrive at a so-called 'infinity pool' with a beautiful view over the southern part of Socotra. We have lunch near the water.
Diehards are allowed to make a descent on foot towards the beach. The others go by car.
Short drive to Arher.
Highlight: The beach of Arher is the place where fresh and salt water meet. Here we will set up our tents and you can climb the 300 metre high sand dune (if you wish).
Dinner and overnight stay on the beach of Arher.
Day 4 – Arher – Hoq's Cave/Raw Ersil – Dihamri Marine Protected Area
After breakfast everyone can choose between two activities:
A 4 hour return climb and walk to Hoq's Cave. This is one of the most important points on the island. Or:
A car ride to Raw Ersil, where the Arab Sea meets the Indian Ocean. From here we walk back to the camp.
When everyone is back we drive to Dihamri Marine Protected Area. Although you may not find the most beautiful beach here, you will see a great diversity of flora and fauna.
You can dive and snorkel here (for rent at an extra cost).
Freshly caught fish for dinner.
Overnight stay in Dihamri campsite.
Day 5 – Dixsam – Dihamri
Highlight: Drive to the Dixsam Plateau. This is the most famous place for the dragon blood trees. If you like bird watching: here you will find some special and rare birds.
On the way we stop to take pictures of the view, like at Shehahon's Viewpoint.
Lunch in Dixsam.
We stop at Wadi Derhur for a short walk.
We take a trip to the entrance of Fermahin, the largest forest of dragon blood trees.
Dinner and overnight stay at a campsite in Dixsam.
Day 6 – Dihamri – Zahek & Hayf – Dagub – Amak
Morning walk through the village. We visit a local garden, here they try to grow new dragon blood trees.
Drive to the southern coastal region of Nogud.
Highlight: We stop at the large sand dunes of Zahek & Hayf and the beach of Amak. Enthusiasts can also take a refreshing dip here.
Lunch at the cave or the beach of Amak, depending on where the sun is.
We visit the beautiful Cave of Dagub.
Dinner and overnight camping stay in near Aomak Beach.
Day 7 – Qalansiya – Shuaab – Detwah
Early morning drive to Qalansiya, the second city of the island.
Highlight: We go by local fishing boat to the remote Shuaab beach. On the way you will see beautiful rock formations and birds flying by from the boat. Moreover, with a bit of luck we can also spot dolphins!
Relax on Socotra's most beautiful beach.
After the retreat we drive via Qalansiya to the Detwah Lagoon.
We set up our camp and go for a walk in the surroundings. The landscape around this lagoon is breathtaking.
Overnight stay at the Detwah Eco-campsite.
Day 8 – Hadibu
Drive back to Hadibu.
We spend the day with a city tour through Hadibu and learn more about life in Yemen.
Our first stop is the women's market (including the spice market), where you will encounter the most common products of the island.
We will then go to the fish market. Local fishermen bring in a variety of fish, which are then quickly traded.
We stop at one of the doormakers' workshops. Here they make beautiful doors as you can find them in many countries in the Middle East. Making the doors is really an art. Each door is unique and serves to protect the family.
We end our tour with a visit to a local school. We meet teachers and students, with perhaps a spontaneous English lesson?
It is our last night of the journey. Time for a last feast!
Overnight stay in a hotel in Hadibu.
Day 9 – Hadibu – Cairo (Egypt)
Relaxed morning before we head to the airport.
11:00 a.m. departure flight to Aden.
2:00 p.m. arrival in Aden, here we wait for our 4:00 p.m. departure flight to Cairo.
10:30 p.m. arrival into Cairo (terminal 1).
End of the tour.
Other Yemen Tours
Date: 24 – 29 February 2024
Embark on an unforgettable tour of Yemen's stunning Wadi Doan and Hadramaut province with us. Nestled amidst breathtaking valleys and renowned for its mud houses, Hadramaut offers a unique insight into the daily life of Yemenis amidst the country's ongoing civil war. Meanwhile, Wadi Doan captivates with its cascading waterfalls and lush greenery. Our tour takes you through these remarkable locations, providing a safe and immersive experience of Yemen's rich culture and natural beauty. Book now for an unforgettable adventure in Yemen's hidden gem.
Date: 25 – 31 October 2024
Join us to the Hadramaut province of Yemen. This part of Yemen has been relatively safe from the Civil War that's been taking place in the rest of Yemen. In the 70s and 80s, this part of the country used to be the republic of South Yemen. Famous for its mud houses and the incredible valleys, the Hadramaut province gives a unique glimpse in everyday life in troubled Yemen.