Enjoy mysterious Saudi Arabia
Mysterious and unknown, for many people these are the most common words to describe Saudi Arabia. For years the country was closed off to any form of tourism and foreigners were only allowed to come to work or to make a pilgrimage. This has changed since 2019, and curious tourists are slowly starting to visit the Kingdom. Join our tour and discover the famous cities of Riyadh and Jeddah, and less known places like Ha'il, Qassim and The Edge of the World. Soon you will notice that it is a very hospitable country and that the people are curious and proud to be able to present their country to you.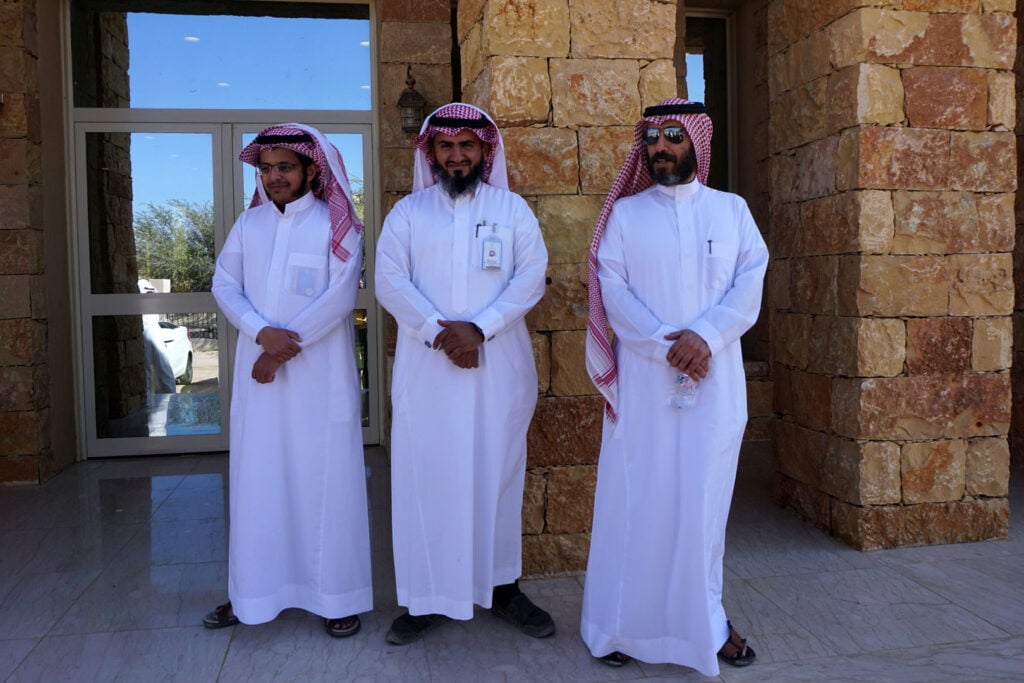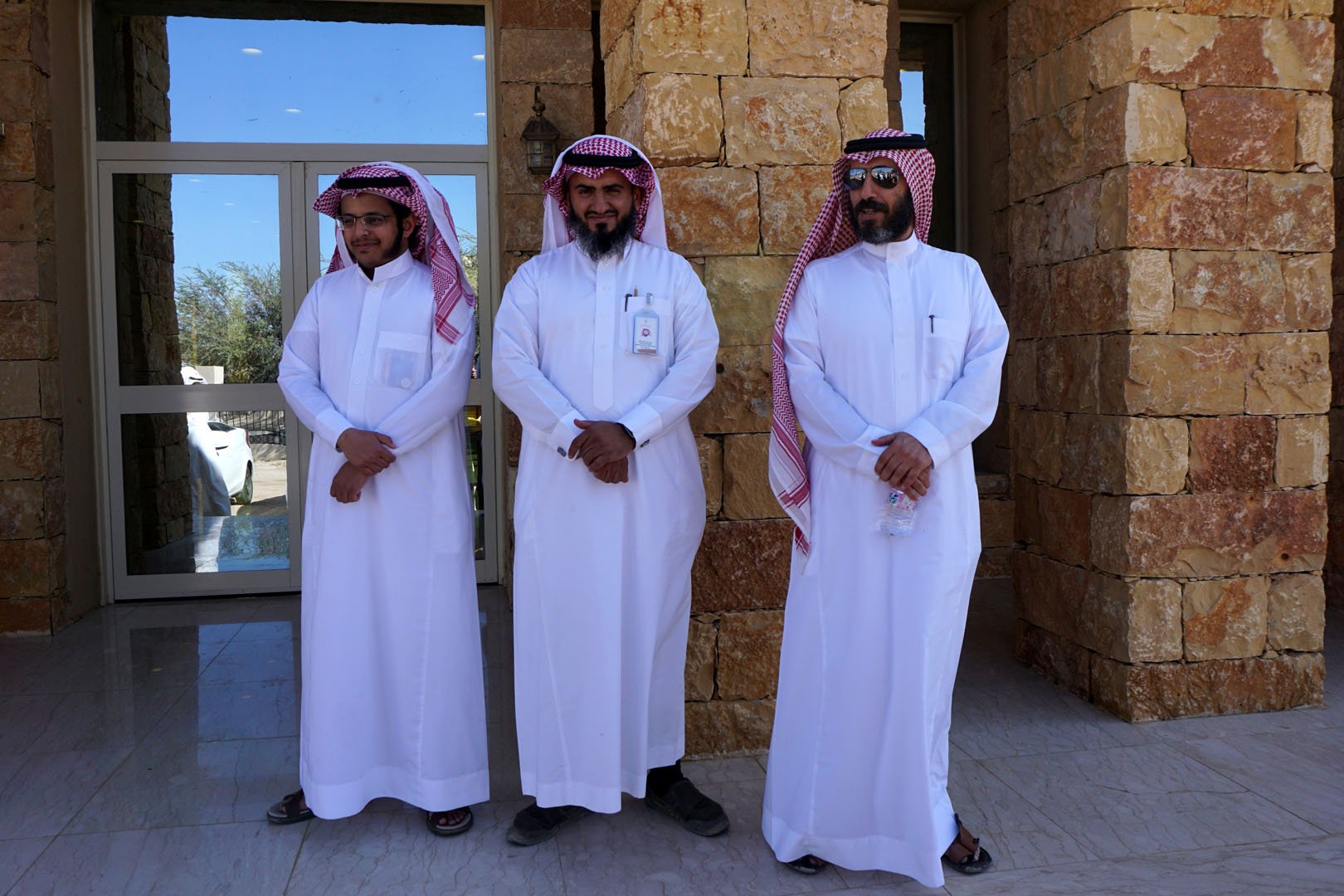 General info
Start date
Saturday 11 February 2023
End date
Saturday 18 February 2023
Days
8 days / 7 nights
Price
€ 2,695
Including
Accommodation (shared)
Transportation on the ground
Western & local guide
Breakfast, lunch, dinner
Entry fees
Excluding
International flights
Single room (€ 45 per night)
Insurance
Visa
Drinks
Tips for the guide
Personal expenses
This offer is covered by the STO Garant guarantee. You can find the conditions for this guarantee scheme on STO Garant's website.
Itinerary
Saturday 11 February – Riyadh
Arrival in the capital Riyadh.
At six o'clock you will meet the group at the hotel.
Overnight stay in Riyadh.
Sunday 12 February – Riyadh
Al Masmak Fort, an old building made of mud and clay. The fort was one of the most important places in the creation of present-day Saudi Arabia.
Grand Mosque, this is the largest mosque in Riyadh.
Deira Souk, this market is known for its many copper products. You will also find traditional daggers and knives here.
Dukhanah Gate.
National Museum, the most important museum about the entire history of Saudi Arabia.
Al Muraba Palace & Mosque, the ancient palace of King Abdul Aziz.
Highlight: Kingdom Tower (the bottle opener), the most famous building in Riyadh.
Overnight stay in Riyadh.
Monday 13 February – Riyadh – Jabal Tuwaiq
We drive into the desert, outside Riyadh.
Highlight: Arrival at Jebel Fihrayn, also known as The Edge of the World. A beautiful nature reserve (Jabal Tuwaiq) with large, deep ravines where you have an infinite view on the horizon. In the distance you can see dry rivers and camels.
Visit to Al Diriyah, the very first capital of the country and the place where the royal family comes from.
Drive to Riyadh.
Overnight stay in Riyadh.
Tuesday 14 February – Riyadh -Qassim – Ha'il
At 9:00 a.m. we take the train to Qassim, arrival at 12:00 p.m.
We are going to explore the conservative town further.
Highlight: Mithnab Village, a village made of mud bricks.
Heritage Museum.
Palm tree nursery.
Local souk, known for dates.
Visit the sand dunes, where the locals like to show off their driving skills.
A 300km drive through the desert to Ha'il.
Overnight stay in Ha'il.
Wednesday 15 February – Ha'il – Joubbah
We explore the old town of Ha'il .
Drive to Joubbah, via Sanman Mountain, where we see 1000-year-old rock paintings.
Al Qashlah Fort, a palace from the forties, with walls of approx. 8 meters high.
Earf Castel.
Local souk, a perfect place for beautiful photos.
Overnight stay in Ha'il.
Thursday 16 February – Ha'il – Jeddah
Early flight to Jeddah, the most progressive city of the country.
Highlight: Walk through old Jeddah (Al Balad). Here you will find beautiful, colourful houses reminiscent of the old times of Jeddah as a lively harbour town.
Coral houses, these are the most colourful houses in the city. Unfortunately they are not all in good condition anymore.
Walk along the Corniche, the street along the Red Sea.
Floating Mosque.
Overnight stay in Jeddah.
Friday 17 February – Jeddah – Ta'if
Drive to Ta'if, near Mecca. Ta' if is mainly known for the production of roses.
Katib & Kaaki House, two exceptionally designed buildings.
Bin Abbas Mosque, the Islam teacher Abdullah bin Abbasis buried next to the mosque .
Local souk, the perfect place to buy rose oil or rose water.
Al Gadee Factory, this is where dandruff water and rose oil are produced.
Al Koaa Mosque & Dam, a historically important place.
Visit to the Al Shafa Mountains with a rose grower.
Overnight stay in Ta'if.
Saturday 18 February – Jeddah
Drive to Jeddah.
Snorkelling (optional).
End of tour.