Discover colourful Yemen
Yemen Hadramaut Spring Tour
Embark on an unforgettable tour of Yemen's stunning Wadi Doan and Hadramaut province with us. Nestled amidst breathtaking valleys and renowned for its mud houses, Hadramaut offers a unique insight into the daily life of Yemenis amidst the country's ongoing civil war. Meanwhile, Wadi Doan captivates with its cascading waterfalls and lush greenery. Our tour takes you through these remarkable locations, providing a safe and immersive experience of Yemen's rich culture and natural beauty. Book now for an unforgettable adventure in Yemen's hidden gem.
InStock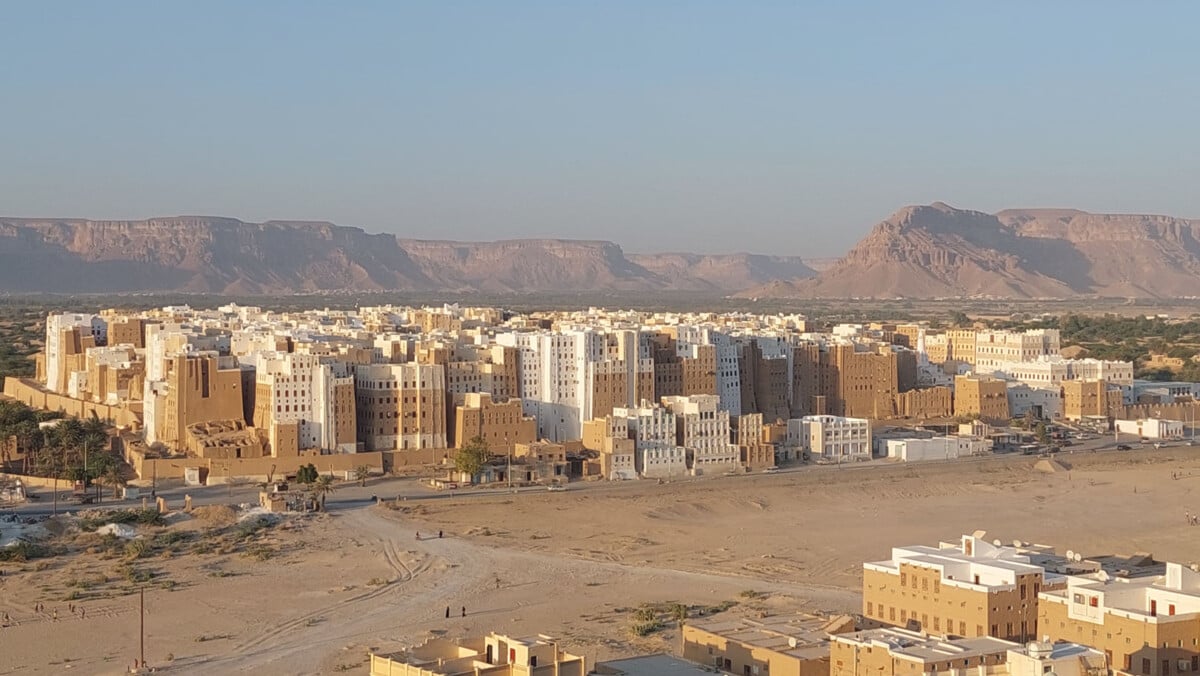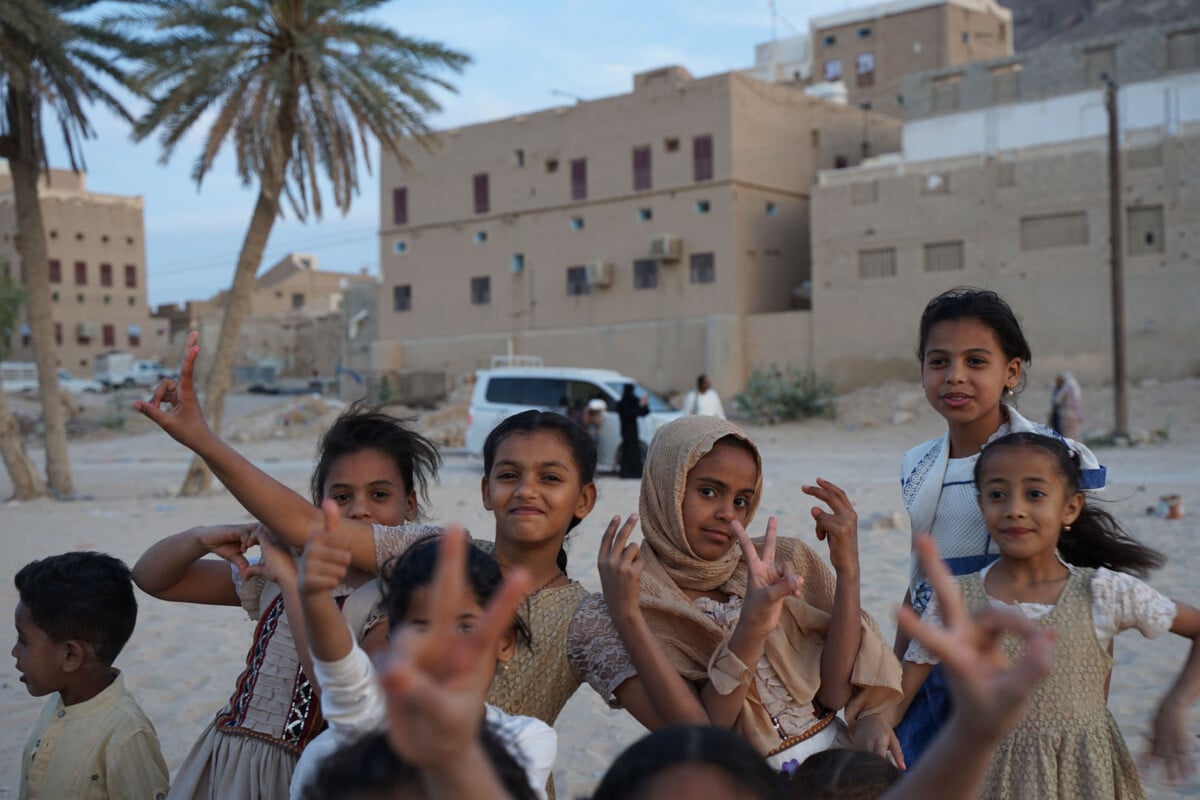 Hadramaut Spring Group Tour Schedule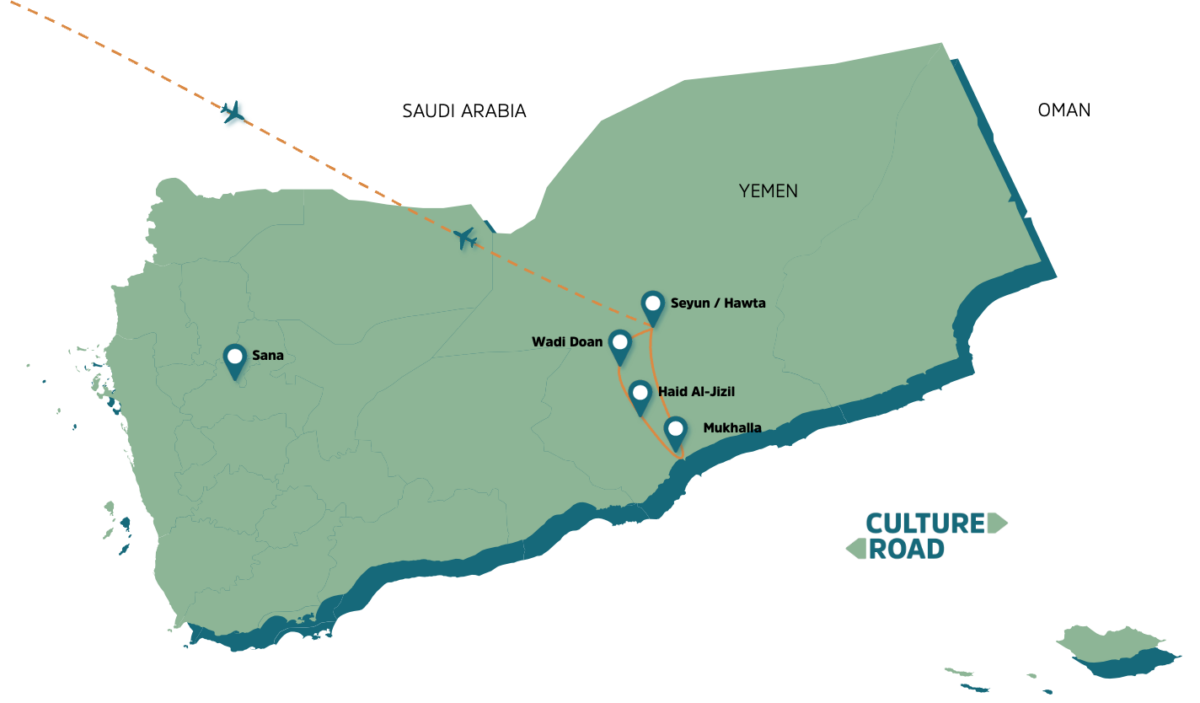 General info
Days
6 days / 5 nights
Including
Accommodation (shared)
Transport on the ground
Security clearance / visa
Local guide
Western guide
Breakfast, lunch, dinner
Entry fees
Excluding
International flight
Insurance
Single room (€ 350)
Tip for the guide
Personal expenses
This offer is covered by the STO Garant guarantee. You can find the conditions for this guarantee scheme on STO Garant's website.
Itinerary
Day 1 – Cairo (Egypt) – Seiyun (Yemen)
Morning departure to Seyun from Cairo International Airport. The Yemen Airways flight leaves at 9:45AM and arrives in Seyun at 2:15PM local time.
Upon arrival we go through customs and meet our local Yemeni guide.
Highlight: We head straight to a viewpoint to enjoy a magnificent sunset over Seiyun, the biggest city in Southern Yemen.
After sunset we head to our hotel in Hawta.
Overnight stay in Hawta.
Day 2 – Seiyun – Al Mukalla
After breakfast and a good night of sleep we head back to Seiyun to buy local Yemeni clothes at the market.
Jump in the car for a long drive to Al Mukalla, a major port city located at the Golf of Aden. For years this city was not accessible for tourists, but recently they re-opened again.
Highlight: Upon arrival in Mukalla we head for the Old Town with its Old Market. Here you'll see an interesting mix of shops selling goods from all over Yemen.
Overnight stay in Mukalla.
Day 3 – Mukhalla – Wadi Doan – Haid Al-Jizil
Before we leave Mukhalla we'll visit the fish and vegetable market, right next to the sea.
On our way out we visit Khoor Mukhalla & Al-Ghawizi Fort.
Drive to Wadi Doan (Doan Valley). A picturesque place with incredible scenery.
We'll go to the best place for an incredible panorama view of the valley, the Haid Al-Jizil Hotel.
Join a 1h trek to Hawfah Village and Buqshan.
Highlight: See the incredible Buqshan Palace, a colorful building which is a famous sight in Wadi Doan.
We return to Haid Al-Jizil Hotel for an incredible sunset over the village of Haid Al-Jizil.
Overnight stay in Haid Al-Jizil.
Day 4 – Haid Al-Jizil – Wadi Doan – Shibam – Hawta
Drive to the town of Ribad. From here we walk to Qarht Bahumaish.
We drive further down in Wadi Doan, along the way we make various stops at the villages and towns.
Highlight: See the photogenic village of Musainah and Ribad.
Along the way we stop at small villages like Qarn Majed, to experience local life in the valley.
Visit Al Khuraiba, a beautiful town along the way.
Stop at the former palace of Osama Bin Laden's family.
Visit to the villages of Sif and Hajjrain.
Drive to Shibam, in Wadi Hadramaut (Hadramaut Valley).
Highlight: Sunset over Shibam.
Drive to Hawta, close to the city of Seyun.
Overnight stay in Hawta.
Day 5 – Hawta – Shibam – Seiyun – Avnat – Tarim
We return to Shibam, also known at the Manhattan of Arabia.
Highlight: Explore the inside of the city of Shibam, with its incredible mut houses.
Climb one of the houses and see the area from the top.
We drive to Seiyun, the biggest city in Southern Yemen.
Highlight: Visit to the Sultan Palace Museum and the Al-Falas Palace.
Wander around the Al-Handal Souk and the well known fruit and vegetable market.
Continue towards Aynat, to see several historical shrines in the village.
We'll stop in Tarim, a historical village built in mud. Here we pay a visit to a small market and see the Al Mihdar Mosque.
Enjoy a sunset over Tarim.
Return to Hawta.
Overnight stay in Hawta.
Day 6 – Hawta – Seiyun
Early morning departure to catch the flight back to Cairo (Egypt) with Yemen Airways.
End of tour.
OR: continue with our Alternative Egypt Tour.