Discovering Afghanistan
Grand Afghanistan Spring Tour
During our spring tour through Afghanistan you will discover the historical side of Kabul. A centuries-old city where today you will find a mix of the past and the future. We also visit arguably the most beautiful place in Afghanistan: Bamian. Once upon a time giant Buddha statues stood here, until the Taliban blew them up at the beginning of this century. The nature and scenery here is still spectacular. You will soon understand why every Afghan gets so enthusiastic when we talk about Bamian!
InStock
Trip
Group A:
EUR
€
3445
3445
Trip
Group B:
EUR
€
4440
4440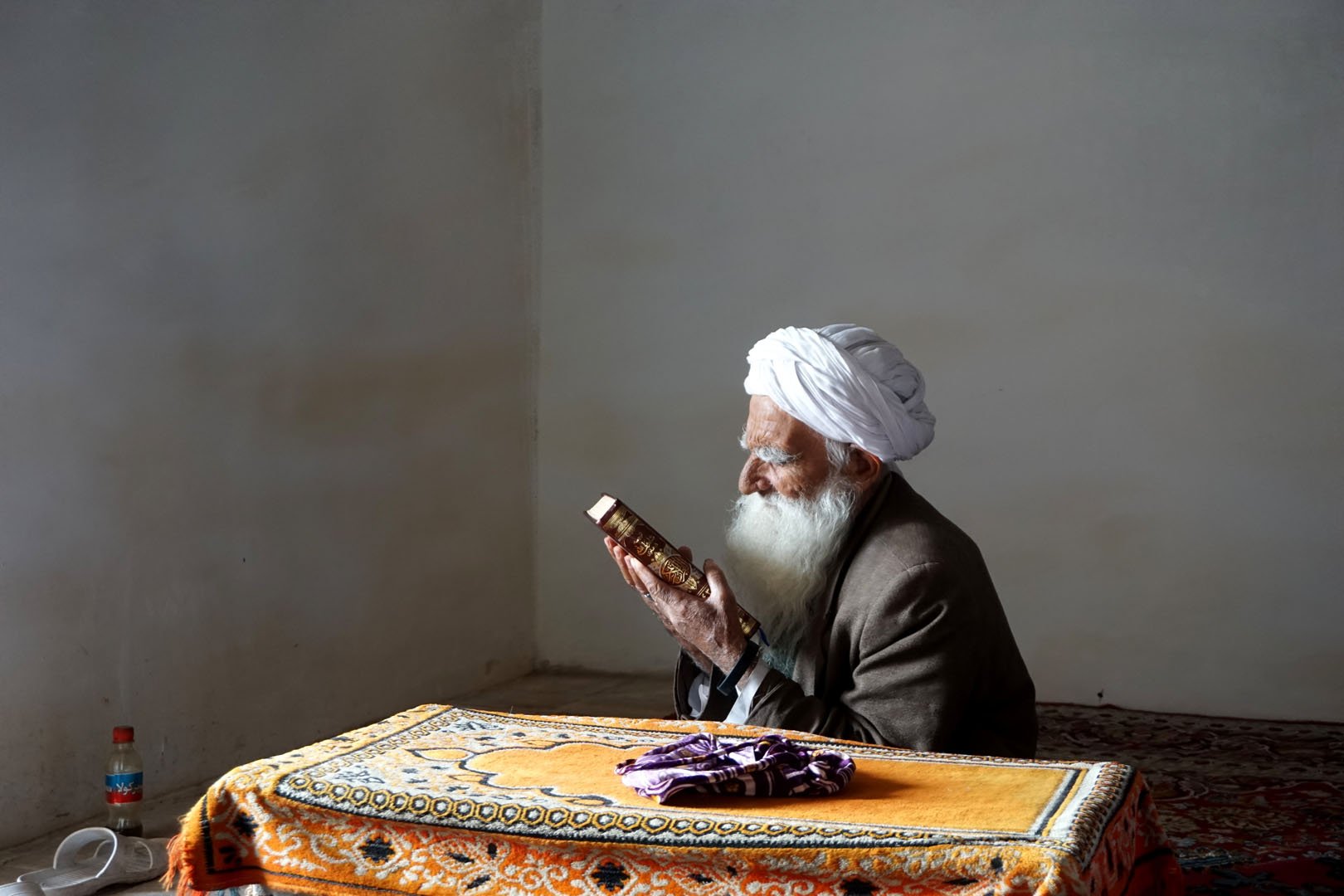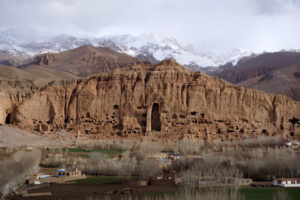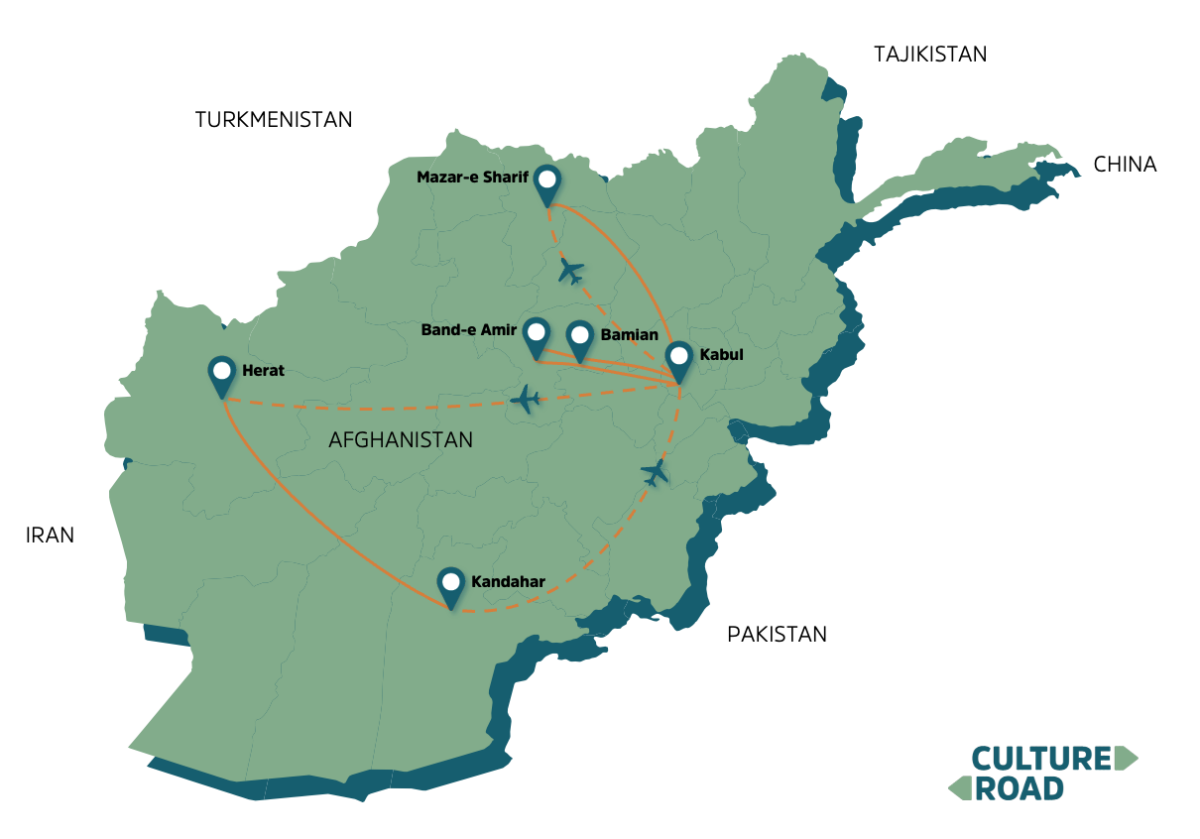 General info
Start date
Monday 8 April 2024
End date
Sunday 21 April 2024
Days
10 / 13 days
Price
Group A: € 3,445
Group B: € 4,440
Including
Accommodation (shared)
Transportation on the ground
Western & local guide
Breakfast
Entry fees
Excluding
International flights
Group A: single room € 250
Group B: single room € 350
Insurance
Visa
Lunch & Dinner
Tips for the guide
Personal expenses
This offer is covered by the STO Garant guarantee. You can find the conditions for this guarantee scheme on STO Garant's website.
Itinerary
Monday 8 April – Kabul
For those arriving from our South Pakistan Tour, late afternoon arrival from Islamabad.
Airport pick up and overnight stay in Kabul.
Tuesday 9 April – Kabul
For those who not joined our Pakistan tour. Airport pick-up. We advise you to take the 3:05am KamAir RQ902 flight from Dubai.
Meeting with the guide and the group.
Briefing on traveling in Afghanistan, including on the local customs & dress.
Sakhi Shrine, a well-known mosque, where Mohammed's cloak is said to have been brought.
Highlight: We'll visit the Bibi Mehro Hill, a place where many Afghans come together to relax. On top of the mountain is a large swimming pool with a giant Afghan flag.
Overnight stay in Kabul.
Wendesday 10 April – Kabul – Herat
Morning flight to Herat.
Upon arrival in Herat we'll start our sightseeing tour of Herat.
The Great Mosque of Herat, also known as the Friday Mosque.
Visit Jihad Museum. It was built in 2010 as a place for Afghans to understand past conflicts and their history.
Gawhar Shad Mausoleum, also known as the tomb of Baysunghur, was built in the 15th century.
Highlight: Walk through the old town of Herat.
Traditional Caravanserais, this is where people came together at the time of the Silk Road.
Overnight stay in Herat.
Thursday 11 April – Herat – Kandahar
Highlight: Musalla Complex, a place built in the 15th century. Today there are 5 large minarets still standing.
Shrine of Khoja Ansari, a famous sufi poet / writer from the 11th century.
Departure by car Kandahar, the largest city in the South of the country. It's a long journey and along the way we make a few stops to stretch our legs and to enjoy the scenery.
Evening dinner and time to relax in Kandahar.
Overnight stay in Kandahar.
Friday 12 April – Kandahar
Highlight: City tour of Kandahar. We will visit the following spots:
Fort Stairs. Carved into a mountain peak at the western boundary of what was "Old Kandahar", this monument was an imposing symbol etched upon the natural defense formed by Kandahar's western mountains.
Ahmad Shah Durani Shrine. It is the most important historical monument in Kandahar. Ahmad Shah Durrani, fondly known as Ahmad Shah Baba, Father of Afghanistan, ruled an empire from Kandahar from 1747-1772.
Mirwais Hotak Shrine. Mirwas was an Afghan ruler from the Ghilji tribe of Pashtuns of Kandahar, Afghanistan, and the founder of the Hotak dynasty.
Overnight stay in Kandahar.
Saturday 13 April – Kandahar – Kabul
Late morning flight to Kabul.
Highlight: We visit the famous Bird Market of Kabul.
Viist Chicken Street, the famous hippie street with souvenirs.
OMAR Landmine Museum. It contains a collection of 51 types of land mines out of the 53 that have been used in that country.
Bala Hissar Park, with a beautiful view over the city.
Overnight stay in Kabul.
Sunday 14 April – Kabul – Bamian
Morning departure by car to Bamian. An area that has been quite isolated in Afghanistan, but is known for its incredible scenery.
Highlight: After arrival we'll visit the mountains where once monasteries and giant Buddha statues stood. These statues were blown up by the Taliban.
Overnight stay in Bamian.
Monday 15 April – Bamian
Walk through Bamian, a city that has always been quite different then the rest of the country due to its isolation and the Hazara population.
Highlight: Visit the local market, a great place for photos.
Short hike to a former Taliban lookout post.
Dragon Valley and its beautiful landscape.
Shah-e Zohak (Red Fort), historical ruins destroyed by Genghis Khan.
Shah-e Golghola, historic site destroyed in 1221, but from here you'll still have an amazing view over the valley.
Overnight stay in Bamian.
Tuesday 16 April – Bamian – Band-e Amir
Drive to Band-e Amir.
Highlight: Visit the Band-e Amir lakes, beautiful deep blue lakes between high peaks.
Cruise over the lakes in a paddleboat swan (optional).
Walk along the lakes, in the background you'll see the high peaks of the Hindu Kush.
We return to the city of Bamian.
Overnight stay in Bamian.
Wendesday 17 April – Bamian – Kabul
Drive back to Kabul via the majestic mountains and valleys. Driving here is not just a drive, it's a whole experience with incredible landscapes.
We will visit Darulaman Palace, the former palace of the king of the country.
Highlight: Babur's Gardens, an oasis of tranquillity in busy Kabul. Here people get together for games and to relax.
Kabul Museum, the national museum where you'll still find ancient artifacts.
Overnight stay in Kabul.
Thursday 18 April – Kabul
Airport drop off.
Group A: End of the tour. We advise you to take the 5:25pm KamAir RQ901 flight to Dubai.
Group B: Afternoon flight to Mazar-e Sharif.
Overnight stay in Mazar-e Sharif.
Friday 19 April – Mazar-e Sharif – Bakh
Highlight: The famous blue tomb of Hazrat Ali, the Blue Mosque. One of the most famous sights of Afghanistan.
Drive to Bakh.
Visit Khwaja Abu Nasr Parsa shrine, a famous lecturer from Herat. The shrine was built in 1958.
No Gombad Mosque, one of the oldest mosques in Afghanistan. Nowadays a lot of excavations are done here.
Drive to Mazar-e Sharif.
Overnight stay in Mazar-e Sharif.
Saturday 20 April – Mazar-e Sharif – Samangan – Kabul
Ride to Samangan, a small town in Afghanistan.
Tashkurgan, also known as Choelm. Here we drive through deep ravines.
Old King's Hunting Lodge, the King's old loot and palace.
Highlight: Buddhist monastery, a complex of different caves.
We continue our drive via the Soviet Tunnel (Salang) towards Kabul.
Overnight stay in Kabul.
Sunday 21 April – Kabul
Airport drop off.
End of the tour. We advise you to take the 5:25pm KamAir RQ901 flight to Dubai.