Welcome to the Great Migration of the Wildebeest
Embark on an unforgettable adventure with our Nairobi and Masai Mara Safari Tour. This 7-day trip takes you on a journey through some of Kenya's most scenic and culturally rich regions. Get up close and personal with Africa's Big Five game animals, learn about the traditions and customs of the Maasai tribe, and explore the vibrant city of Nairobi. Highlight of the trip is going to the the Wildebeest Great Migration. While we can never predict exactly when the famous river crossings are with the wildebeest, this time of the year is normally your best bet for the Masai Mara National Reserve.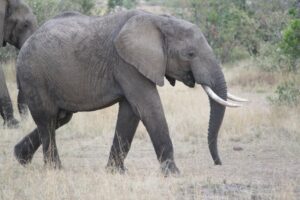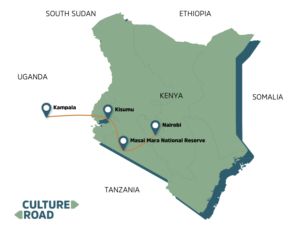 General info
Start date
Wednesday 26 July 2023
End date
Tuesday 1 August 2023
Days
7 days / 6 nights
Price
€ 3445
DRC, Burundi, Rwanda + Uganda combo: € 8,345
Including
Accommodation (shared)
Transportation on the ground
Local & Western guide
Breakfast
Entry fees
Excluding
International flights
Single room (€ 400)
Insurance
Visa
Lunch & Dinner
Tips for the guide
Personal expenses
This offer is covered by the STO Garant guarantee. You can find the conditions for this guarantee scheme on STO Garant's website.
Itinerary
Wednesday 26 July – Kampala (Uganda) – Kisumu (Kenya)
Meet your group members in the capital of Uganda – Kampala, coming from our Uganda Tour.
OR: if you wish to arrive in Nairobi, get in touch with us on how to meet the group.
We head for the border with Kenya and onwards to the city of Kisumu.
Highlight: Kisumu is Kenya's third biggest city, but compared to Nairobi or Mumbasa it's a very relaxed place. We go for a small walk around the city before we relax at the beach, located next to Lake Victoria.
Overnight stay in Kisumu.
Thursday 27 July – Kisumu – Masai Mara National Reserve
Have breakfast and set off to drive to Masai Mara National Reserve.
We'll continue our drive towards the reserve, making a few stops along the way to stretch our legs.
Reach Masai Mara around lunchtime, where we check in at the lodge.
Highlight: In the afternoon we'll embark on several leisure activities, like a guided bush nature bird walk, a trek/hike safari.
Return to the lodge for overnight stay.
Friday 28 July – Masai Mara National Reserve
Highlight: Today will be a full day where we try to catch the great migration. You can never fully predict the migration, but this time of the year is normally one of the finest moments to catch it. Depending on the migration we might have to alter our schedule.
We cruise around the park while enjoying an unhindered 360 views of what the park has to offer with tour vehicle windows rolled down and roof popped up.
Witness the outstanding migration with lots of wildebeest, zebras, and Thomson's gazelle journeying to and from the Serengeti in Tanzania.
Highlight: Spot hippos, crocodiles, lions, cheetahs, leopards, elephants, Masai giraffes, common zebras, impalas, gazelles, Topis, Jackson Heart beast, black-backed jackals, spotted hyenas, and other wildlife species.
Return to the lodge for overnight stay.
Saturday 29 July – Masai Mara National Reserve
This morning we head for another game drive.
Highlight: Enjoy a refreshing 3 hours of game viewing in search of lions, cheetahs, elephants, buffaloes, and other wildlife species.
In the afternoon we visit a local Maasai village. Here we learn about their cultural and lifestyle practices, bushcraft skills, and warrior training.
Return to the lodge for overnight stay.
Sunday 30 July – Masai Mara National Reserve – Narok – Nairobi
In the morning we say goodbye to our lodge and head north towards Kenya's capital Nairobi.
Highlight: Along the way we stop at the town of Narok, a predominantly Maasai town.
Visit to the Narok Museum, at this small museum you'll find artefacts and pictures of the traditional culture of the Maasai.
Walk through the village, before we head back to the car.
On the way to Nairobi we'll drive through the Great Rift Valle, before we pass the highlands of Central Kenya.
Overnight stay in Nairobi.
Monday 31 July – Nairobi
Time to explore Nairobi, during our last day.
Highlight: We visit the Kibera, a thriving urban jungle of shanty town housing, where millions of people live. It's the second largest shanty town after Soweto in Johannesburg, South Africa. We'll visit the shanty town in a respectful way, trying to get a better understanding of the living conditions and daily struggles.
In the afternoon we'll visit the Kiambethu Farm, located at the hills of Limuru. This is the first spot where the famous Kenyan tea was grown. It's just outside the city but it already feels like a world apart with endless verdant fields surrounded by rich indigenous forest.
Upon return to Nairobi we'll make a stop at a local art galleries.
Overnight stay in Nairobi.
Tuesday 1 August – Nairobi
End of the tour, departure at your own convenience.