Discover the diversity of Lebanon: beauty, strife, resilience & hope
Discover the beauty and rich history of Lebanon on this unforgettable tour. Explore the vibrant city of Beirut, known for its stunning architecture, delicious cuisine, and bustling nightlife.
Visit Beirut, known for its vibrant nightlife and stunning architecture. Explore the ancient ruins of Baalbek, a UNESCO World Heritage site. Discover the charming port city of Tripoli and its vibrant souks. Visit Byblos, the birthplace of the alphabet. On top we visit the stunning Qadisha Valley, showcasing the country's early Christian heritage. Immerse yourself in the rich history and cultural heritage of Lebanon.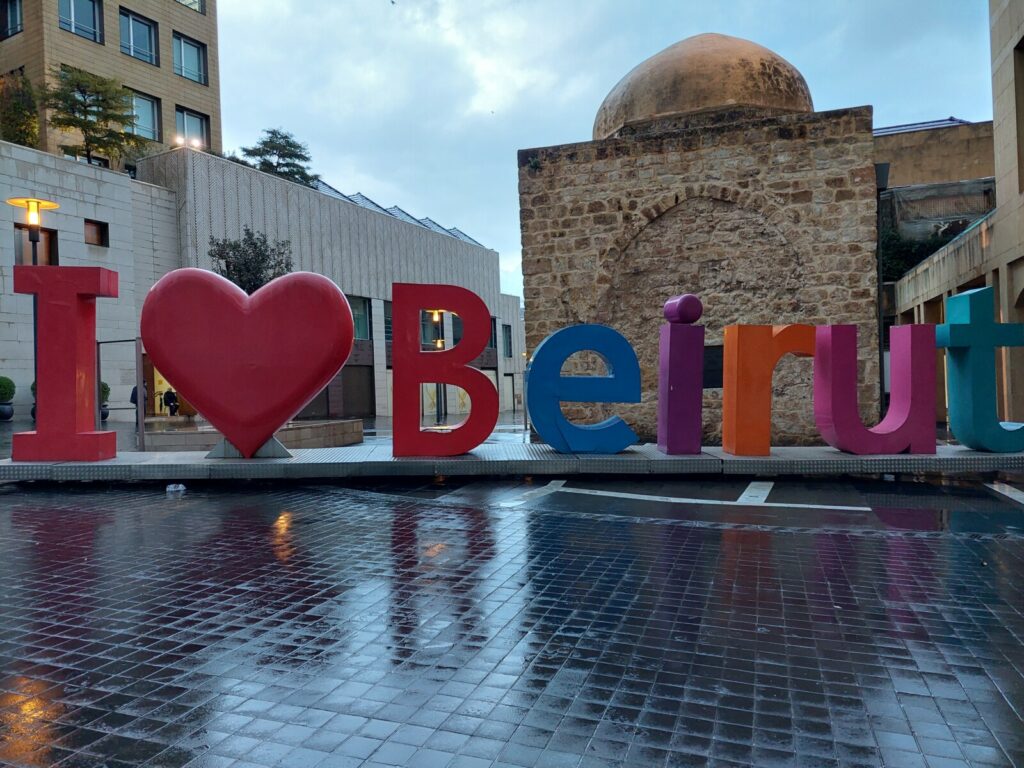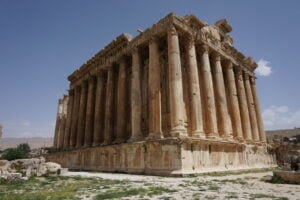 General info
Start date
xxx xxx xxx 2024
End date
xxx xxx xxx 2024
Days
7 days / 6 nights
Price
€ 1225?
Syria combo: € 2,545?
Including
Accommodation (shared)
Transportation on the ground
Local guide
Breakfast
Entry fees
Excluding
International flights
Single room (€ 475?)
Insurance
Visa
Lunch & Dinner
Tips for the guide
Personal expenses
This offer is covered by the STO Garant guarantee. You can find the conditions for this guarantee scheme on STO Garant's website.
Itinerary
Day 1: xxx xxx xxx – Beirut – Mlita – Tyrus
Meet your group and local guide at 8:00AM
On the road about 8:30AM driving south to Tyrus, the southernmost city in Lebanon, also known as Sur. Tyre, a major ancient Phoenician city and maritime power, renowned for its production of a unique purple dye. Over millennia, it faced numerous sieges, notably by Alexander the Great.
We'll explore the UNESCO World Heritage sites in Tyrus – the Tyre Hippodrome and Al-Bass Tyre necropolis. Wander around the columned roads, aqueducts and water reservoirs, and the remains of roman baths and bathrooms.
Seafood lunch and optional summer-time dip at Tyre beach with the locals.
Next we head into the mountains to visit the village of Mlita (Mleeta).
Highlight: Museum for Resistance Tourism, is a war museum operated by Hezbollah near the village of Mleeta in southern Lebanon. It is dedicated to chronicling the history and operations of Hezbollah during its resistance against Israeli invasions.
Return to Beirut.
It's time for Shawarma! Eat with the locals at the ever-popular 24h Barbar restaurant in downtown Hamra. With different segments for restaurant, snacks, drinks, and ice-cream! All yummy and great value for money too.
Overnight stay in Beirut.
Day 2: xxx xxx xxx – Beirut – Jeita Grotto – Bekaa – Batroun – Byblos
Breakfast and then we checkout of our Beirut hotel to head north.
Highlight: Travel to Jeita Grotto, a massive interconnected cave system that stretches for 9 km with chambers that reach over 100 meters high.
See the shrine of our Lady of Lebanon at Harissa.
Enjoy amazing views from the Teleferique Cable Car.
?Visit the famous Château Musar Winery, known for its location in the Bekaa Valley and traditional winemaking methods
?Explore the vineyards, take a tour of the winery and enjoy a wine tasting
Travel to Batroun for an evening of exploring, sipping drinks by the beach and a glorious Lebanese dinner. This small coastal town is filled with pretty little streets where ancient houses, old churches, magnificent gardens and a whole range of archaeological remains intermingle.
See the Phoenician sea wall at the city of Batroun protecting the Church of Our Lady of the Sea.
Optional: Hire a vespa and explore the town on two (electric) wheels.
After dinner we take a quick drive south to our overnight stay in the ancient city of Byblos.
Day 3: xxx xxx xxx – Byblos – Tripoli – Cedars – Qadisha Valley – Gibran – Byblos
Drive north to the second largest city of Lebanon; Tripoli.
Highlight: Visit the Citadel of Raymond de St. Gilles, also known as the Tripoli Castle. Constructed in the early 12th century by Raymond de Saint-Gilles, a Crusader and Count of Toulouse, the citadel served as a strategic stronghold during the Crusades and has since undergone various modifications, reflecting its turbulent history and the diverse cultures that have influenced the region.
In downtown Tripoli we visit the Al Mansouri Great Mosque and the Taynal Mosque, along with walking the old souks.
Drive towards the mountains of Lebanon; experience the natural landscape of the Holy valley, the Qadisha Valley.
Explore The Cedars of God forest and enjoy a short hike between the old trees.
Highlight: Stop at Qadisha Valley for a panoramic view and see natural caves from the Paleolithic era. The valley is a deep gorge renowned for its stunning landscapes, ancient monasteries, and hermitages. For centuries, its rugged terrain has provided sanctuary for Christian monastic communities, making it a significant religious and cultural site, and in 1998, UNESCO designated the valley, along with the nearby Forest of the Cedars of God, as a World Heritage site.
?Visit the monastery of St Anthony Kozhaya
Return to Byblos.
Day 4: xxx xxx xxx – Byblos – Chouwen Lake – Beirut
Highlight: Explore Byblos – visit the Crusader Castle, Amphitheater, St. John's Church, old souk, and Roman columns.
Next we head to Chouwen Lake, located in the Jabal Moussa Biosphere Reserve in Lebanon, is a serene body of water known for its crystalline azure waters and scenic beauty. While it's a natural attraction popular for hiking and relaxation today, its surroundings encompass a rich tapestry of flora and fauna, connecting visitors to the diverse ecological heritage of the region.
Wearing good footwear we set of on a hike. The view from the lookout point is out of this world, and the lake itself is absolutely beautiful; crystal clear water which is icy cold and perfect for a refreshing mid-hike swim.
This beautiful lake is surrounded by dense forest such as oak and pine and various plant species.
?Lunch included
We return south to Beirut.
After a quick refresh at the hotel it's time for a night out in the Armenian quarter of Beirut. The area known as Bourj Hammoud, is a cultural epicenter on the city's eastern fringe, renowned for its distinct Armenian traditions, spirited markets, and craftsmanship. Founded by survivors of the Armenian Genocide in the early 20th century, Bourj Hammoud faced significant challenges in the wake of the 2020 Beirut port explosion, rallying as a community to aid in city-wide relief efforts and rebuilding its cherished neighborhoods.
Overnight in Beirut.
Day 5: xxx xxx xxx – Beirut – Sidon – Chouf Mountains – Beirut
Highlight: We take a city walk in Beirut, including a visit to Hamra Street, the Boulevard and Helou Street.
The city of 2 million boasts a rich tapestry of Phoenician, Roman, Ottoman, and contemporary influences, serving as a significant cultural, financial, and political hub in the Middle East. However, its recent history has been marred by a devastating civil war (1975-1990), significant political protests beginning in 2019 against corruption and economic distress, and the catastrophic port explosion in 2020 that deeply affected its residents and infrastructure.
A view of the port where the blast occurred on August 4th 2020.
From Beirut we drive to the south, towards Sidon, an ancient port city. Renowned as one of the oldest continuously inhabited cities in the world with roots tracing back over 6,000 years. Historically a crucial Phoenician city, Sidon flourished through trade and its famed sea-craftsmanship, later undergoing various dominations including the Crusaders and Ottomans, each leaving an indelible mark on its rich tapestry of culture and architecture
Highlight: Visit the majestic Sea Castle in Sidon – a historic fortress majestically perched on a small island connected to the city's coastline.
Visit Soap museum of Sidon and get to know about soap production.
See Khan El Franj and Debbane Palace.
Wander the old souks of Sidon.
Return for an overnight stay in Beirut.
Day 6: xxx xxx xxx – Beirut – Baalbak – Anjar – Ksara – Beirut
Drive to Baalbek located in Lebanon's Beqaa Valley.
Highlight: Visit the Roman ruins of Baalbek, an ancient city built by the Phoenicians and dedicated to the god Baäi
See the temples of Jupiter, Bacchus, and Venus – monumental testaments to the Roman Empire's architectural prowess and religious practices in the ancient city of Heliopolis. Among them, the Temple of Bacchus stands exceptionally well-preserved, showcasing intricate carvings and colossal columns, while the massive foundation stones of the Jupiter temple, known as the Trilithon, remain an engineering enigma, and the Temple of Venus exemplifies classical beauty with its semi-circular design.
Stop at the ruins of Anjar, the remnants of an 8th-century Umayyad city, unique for its regular layout and encompassing grand palaces, mosques, and baths. While the city's existence was brief, its well-preserved archaeological structures, showcasing a fusion of Roman-Byzantine and early Islamic architecture, have led to its designation as a UNESCO World Heritage site.
Highlight: We visit the Château Ksara winery. Established in 1857 it's the country's oldest and largest winery. Renowned for its diverse range of wines, it blends traditional winemaking techniques with modern practices, and its extensive ancient cellars, discovered by Jesuit priests, have become a significant attraction for wine enthusiasts.
Return to Beirut for our final group dinner and few more glasses of wine. We can meet fellow group members who are heading to Syria the following morning.
Overnight stay in Beirut.
Day 7: xxx xxx xxx – Beirut
End of the tour, departure at your own convenience.
OR: 8:30AM departure for the Syria Tour.