10 days tour – Grand Haiti
During our ten-day tour through Haiti you will discover the diversity of this amazing country. You will get acquainted with the rich history, culture and nature. We will take you to the deep south of the country, the central plateau and the northern areas. Each has its own specialties. Moreover, our guides will make sure that everything is perfectly arranged for you to have an unforgettable experience.
At the moment our tours to Haiti are suspended due to the security situation.
Let me know when Haiti opens up again for tourism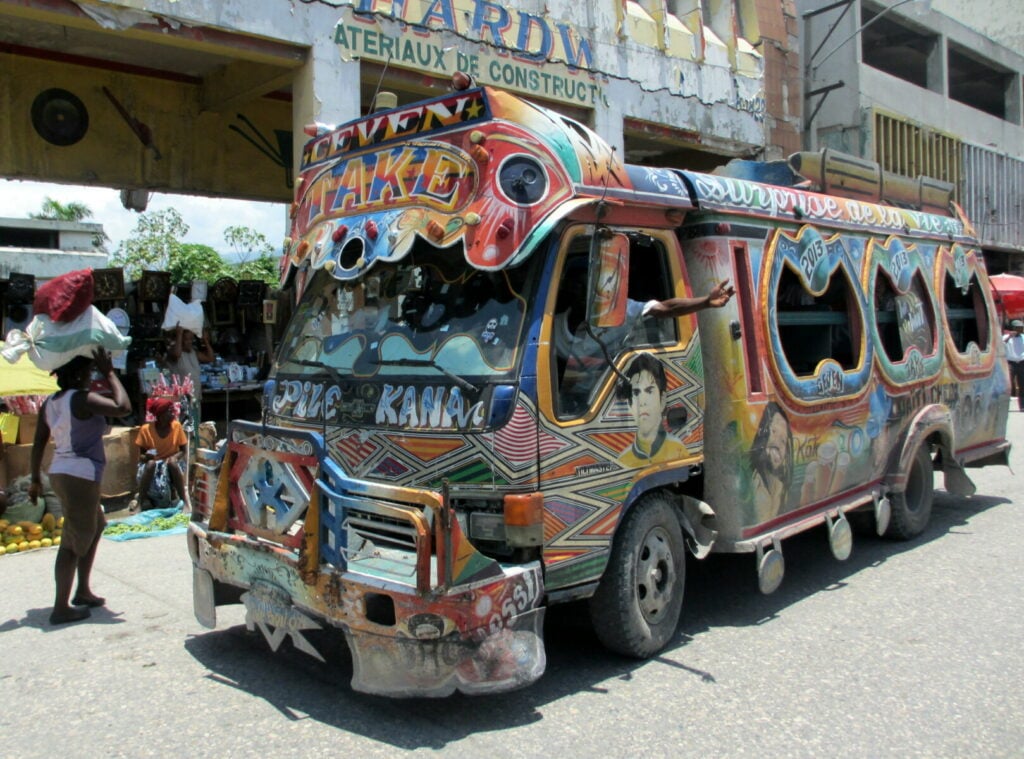 General info
Days
10 days / 9 nights
Price
Get in touch
Best travel time
Whole year
Destinations
Port-au-Prince, Jacmel, Port Salut, Cap-Haitian, Milot
Including
Accommodation
Transportation on the ground
Local guide
Breakfast
Entry fees
Excluding
International flights
Insurance
Visa
Lunch & Dinner
Tips for the guide
Personal expenses
This offer is covered by the STO Garant guarantee. You can find the conditions for this guarantee scheme on STO Garant's website.
Itinerary
Day 1 – Port-au-Prince – Fermathe – Kenscoff
Airport pick-up.
Drive through the Bois Verna district, there are still many Gingerbread Houses around here, the most famous houses in the city.
Champs de Mars, central square of the city. Here you see a lot of people walking around or selling things.
National Palace and Notre Dame Cathedral. Both buildings were severely damaged during the earthquake in 2010 and are now no longer in use.
Unknown Slave statue, the most important statue for Haitians, as it stands for the country's war for independence.
Statues of the first Emperor, first King and Columbus.
Historical Pantheon Museum, the national museum of Haiti.
St Trinity Episcopal Church.
Boutillier viewpoint, here you have a great view over the city.
Drive to Fermathe, a village just outside the city .
Highlight: Self Help Shop Kenscoff, a market village in the mountains around the city where many people sell homemade goods.
Fort Jacques, a 200 year old fort built at the time of independence.
Overnight stay in Port-au-Prince.
Day 2 – Croix des Bouquets – Port-au-Prince
Drive to Port-au-Prince.
Artist village Noailles in Croix des Bouquets, also here you see special voodoo art.
Highlight: Visit the workshops of various metal construction artists. Each workshop has its own designs, where everything is recycled from car parts or drums.
Artists Rezistans, a place for voodoo artists using recycled stuff.
Overnight stay in Port-au-Prince.
Day 3 – Bassin Blue – Jacmel
Drive to Bassin Blue.
Here we take a dip in one of the many beautiful blue lakes.
Drive to Jacmel.
Overnight stay in Jacmel.
Day 4 – Jacmel
Highlight: City walk through Jacmel. We pay a visit to:
New-Orleans-style coffee houses.
Manoir Alexandre, Jacmel's most impressive building.
Old cathedral.
Former house of Simon Bolivar.
Local market, a perfect place for beautiful photos.
We visit several art galleries and a local artist in his studio. In this way we learn more about the specific art of Jacmel.
We go to Cyvadier Plage, where you can swim in the sea or in the nearby swimming pool.
Overnight stay in Jacmel.
Day 5 – Aux Cayes – Port Salut
Drive to the city of Carrefour.
We drive on to Port Salut, an isolated region in Haiti, where few tourists come.
Relax at your hotel or the beach after a long day of travel.
Overnight stay in Port Salut.
Day 6 – Port-a-Piment – Port Salut
Drive to the old village of Port-a-Piment, on the beautiful Haitian coast.
Highlight: We visit the Marie Jeanne Cave. Coming here is already an adventure, because of its remote location. But after that you will discover a three-layer cave system of about 3km in length. Large parts of this area have still not been mapped.
We take the 500 Steps – a religious climb to a viewpoint.
Overnight stay in Port Salut.
Day 7 – Port-au-Prince – Cap-Haïtien
Long drive to Port-au-Prince.
We drive directly to the airport, for a flight to Cap-Haïtien, in the north.
Overnight stay in Cap-Haïtien.
Day 8 – Cap-Haïtien – Milot
Ride to Milot.
We visit the Sans Souci Palace. This palace was the royal residence at the time of Haiti's independence.
Highlight: Walk to the Citadelle LaFerriere, Haiti's most famous fortress. From here you have a beautiful view over the surroundings. This UNESCO fortress was built to protect against the French.
Lakou Lakay – here we will watch a voodoo dance show.
Overnight stay in Cap-Haïtien.
Day 9 – Labadie – Port-au-Prince
Boat to the beaches of Labadie.
Relax on the beach with a barbecue.
Afternoon flight to Port-au-Prince.
Overnight stay in Port-au-Prince.
Day 10 – Port-au-Prince